Preview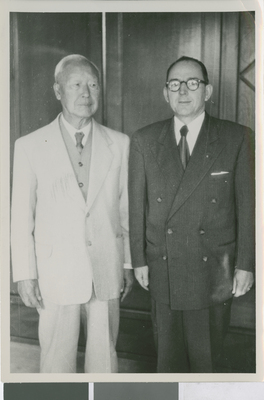 Description
"Burton Coffman and Pres Rhea of Korea 1953" Burton Coffman stands next to Syngman Rhee, the first president of South Korea. Coffman was a well known American minister from Churches of Christ who served as a "guest chaplain" for the United States Armed Forces in Japan and Korea. He stayed in the region for 90 days, holding Gospel meetings throughout both countries. It was on this trip that he had a meeting with President Rhee.
Image Format
photographic print
Resides In
Jimmie Lovell Papers, Center for Restoration Studies, Milliken Special Collections, Abilene Christian University, Abilene, Texas.
Creative Commons License


This work is licensed under a Creative Commons Attribution-Share Alike 4.0 License.