Preview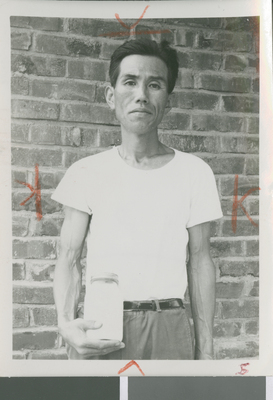 Description
"Two hundred and fifty people die daily of tuberculosis in Korea. This man comes daily for his jar of milk and, like others, have a new lease on life because of fresh milk from our cows." A Korean man holds a jar of milk he received from the "Cows for Korea" program, a humanitarian program run by American missionaries from Churches of Christ. Missionaries brought in milk cows from the United States and given to the agricultural department of Korea Christian College (KCC). The dairy products from the cows at KCC were distributed to orphans, hospitals, and the needy. Calves from these cows were given to orphanages, hospitals, disabled veterans' homes, and rural poor with the understanding that the first heifer offspring be given back to the college herd.
Image Format
photographic print
Resides In
Jimmie Lovell Papers, Center for Restoration Studies, Milliken Special Collections, Abilene Christian University, Abilene, Texas.
Creative Commons License


This work is licensed under a Creative Commons Attribution-Share Alike 4.0 License.