Preview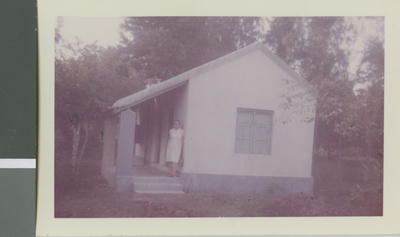 Description
"Dec. 1967. The larger of the new houses. It also has 3 rooms including "Indian Kitchen" and shower room. Not a shower-head, just a bucket and dipper and you pour it over your body." Eva Johnson, American missionary from Churches of Christ to India, stands outside her new house in the Chennai are. Eva and her husband James went to India to be missionaries for the first time after they had turned sixty-years-old. Up to that point, they lived in Winnipeg, Canada where Mr. Johnson worked for the city's water department.
Image Format
photographic print
Resides In
Jimmie Lovell Papers, Center for Restoration Studies, Milliken Special Collections, Abilene Christian University, Abilene, Texas.
Creative Commons License


This work is licensed under a Creative Commons Attribution-Share Alike 4.0 License.