Preview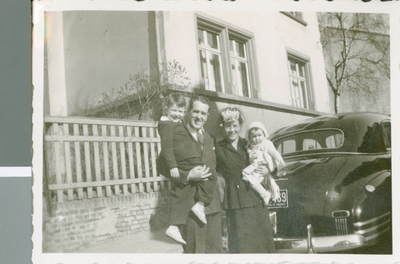 Description
"The Gatewoods" A photograph of the Gatewood family. Following the fall of the Nazi Government, Otis Gatewood was one of three missionaries from the United States of America that the U. S. Army allowed into Germany (Gatewood's coworker Roy V. Palmer was one of the three, and the other, Gatewood neglected to mention the denomination from which that individual came in his book, Preaching in the Footsteps of Hitler). Gatewood established a base in Frankfurt, Germany and was initially concerned with coordinating relief and humanitarian aid for the German people. As the situation in Germany improved, however, Gatewood shifted his focus to evangelism and training German preachers. This photograph comes from a photo album put together by Katherine Patton, a missionary from a cappella Churches of Christ, during her work in Germany from 1948-1958.
Image Format
photographic print, 6.5 x 8.5 cm.
Resides In
Abilene Christian University Brown Library Milliken Special Collections; Center for Restoration Studies; Katherine Patton Papers
Creative Commons License


This work is licensed under a Creative Commons Attribution-Share Alike 4.0 License.