Preview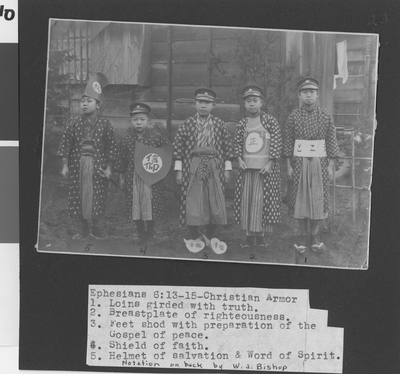 Description
"Ephesians 6:13-15-Christian Armor 1. Loins girded with truth. 2. Breastplate of righteousness. 3. Feet shod with preparation of the Gospel of peace. 4. Shield of faith. 5. Helmet of Salvation & Word of Spirit." Photograph of a rural Japanese home and five Japanese children who display the armor of God from Ephesians 6:13-15. The caption identifies each piece of armor, being read from right to left. The back of the photograph has a notation on it by William J. Bishop. Bishop was a missionary to Japan from the a cappella Churches of Christ from 1899 until his death in 1913. Primarily located in Tokyo, Bishop's main work in Japan was evangelism and training indigenous evangelists and preachers, though he also engaged in some translation and publication work.
Image Format
photographic print, 9.5 x 13.5 cm.
Resides In
Abilene Christian University Brown Library Milliken Special Collections; ACU Manuscripts; Ms 15 William and Clara Bishop Papers
Creative Commons License


This work is licensed under a Creative Commons Attribution-Share Alike 4.0 License.