Preview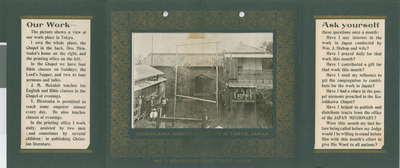 Description
"Koishikawa Mission Buildings in Tokyo, Japan. Our Work - The picture shows a view of our work place in Tokyo. I own the whole plant, the Chapel in the back, Bro. Hiratsuka's home on the right, and the printing office on the left. In the Chapel we have four Bible classes on Sundays, the Lord's Supper, and two to four sermons and talks. J. M. McCaleb teaches his English and Bible classes in the Chapel of evenings. Y. HIratsuka is permitted to teach some enquirer almost every day. He also teaches classes of evenings. In the printing office I work daily, assisted by two men (and sometimes by several children) in publishing Christian literature. Ask yourself these questions once a month: Have I any interest in the work in Japan conducted by Wm. J. Bishop and wife? Have I prayed daily for that work this month? Have I contributed a gift for that work this month? Have I used my influence to get the congregation to contribute for the work in Japan? Have I had a share in the gospel sermons preached in the Koishikawa Chapel? Have I helped to publish and distribute tracts from the office of the JAPAN MISSIONARY? Were this month my last before being called before my Judge would I be willing to stand before Him with this month's effort to give His Word to all nations?" A picture of the various buildings J. M. McCaleb used in his work in Tokyo, Japan. This photo is the last in a series of three included in a fundraising fold-out postcard.
Image Format
photographic print, 9 x 13 cm.
Resides In
Abilene Christian University Brown Library Milliken Special Collections; ACU Manuscripts; Ms 15 William and Clara Bishop Papers
Creative Commons License


This work is licensed under a Creative Commons Attribution-Share Alike 4.0 License.
Keywords
Buildings; Churches; Housing; Printing; Schools
COinS