Title
Preview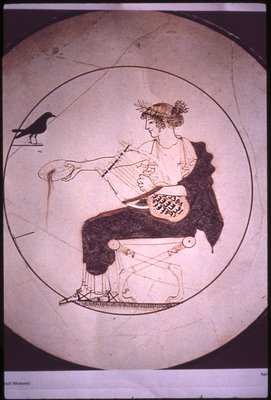 Description
Delphi Mus. Greece. Apollo with Lyre Delphi. 480-470 BC. White cup (Hylix) Lyre played with left hand. right hand marked pauses (also th[?]) White [?] told apollo of infedility of Koronis. For his blabbing, punished with black feathers. (over) EF. IV.13.14a [Reverse] Pouring libation of red nectar. 485-480 B.C.
Creative Commons License


This work is licensed under a Creative Commons Attribution-Share Alike 4.0 License.