Title
Preview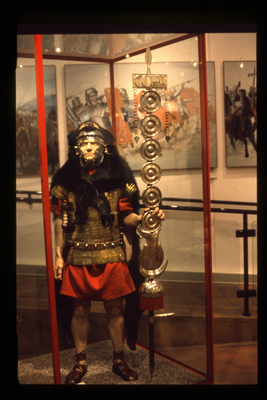 Description
model of standard bearer of late 1st cent. Each century had standard (signum) Cornely signifier. Standard bearer was responsible for pay + savings (vexilla). Banners bore legion's title + badges standards kept at shrine of hgr. Standard of legion was eagle (gold) also portrait of emp. - kept by 1st cohort [Reverse] Caerleon Rom. Legionary Mus. Britain.
Creative Commons License


This work is licensed under a Creative Commons Attribution-Share Alike 4.0 License.