Preview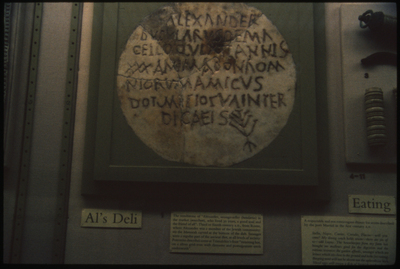 Description
Alexander's delicatesan Menorah - Rome, 3 or 4 cent. Spring '93. Ashmolean Mus, Oxford. - over (sausages regular part of ancient diet at all levels of society) [Reverse] "Alexander sausage-seller (butalarius) in the market (macellum) who lived 30 yrs, a good soul + friend of all"
Creative Commons License


This work is licensed under a Creative Commons Attribution-Share Alike 4.0 License.