Preview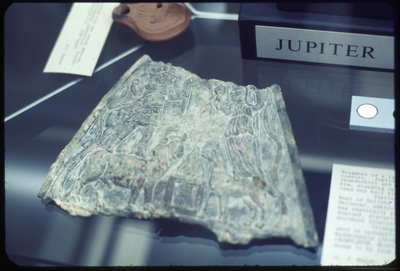 Description
Frg. of triangular plaque - Jupiter Dolichenus + consort. wears mil uniform + phrygian cap. Carries thunder bolt + axe. stands on bull. XII.18.8a. His Junoi stands on hind, holds mirror. flaming altar. Baal of [?]. God of [Reverse side] universe, embracing safety, success + mil triumph. popular with soldiers. P. Merlat, Jupiter Dolichenus (1960). triangular plaque of sheet bronze formed heads of standards. this is cast bronze version of such. Ashmolean.
Creative Commons License


This work is licensed under a Creative Commons Attribution-Share Alike 4.0 License.