Title
Preview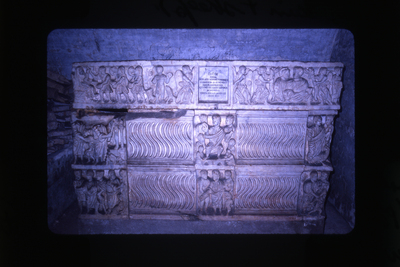 Description
Sarcoph. in S. Sebastian Divine Xp + human Xp. Adam + Eve. Lamb = sac on cross + wheat = sac. of euch. Lid: magi, Daniel, deceased apostle?. Ch. triumphant, purgatory, + militant [?] Deichmann 241. 1st third of 4 cent. inscription is 17 cent. II.10.11a [Reverse] Middle panels: upper - Christ seated + speaking. lower - Christ between Adam + Eve (Grain + Sheep). Left Panels. Blind + Lazarus. Arrest of Peter + Water. Right Panels: Commission of Peter. Paralytic.
Creative Commons License


This work is licensed under a Creative Commons Attribution-Share Alike 4.0 License.