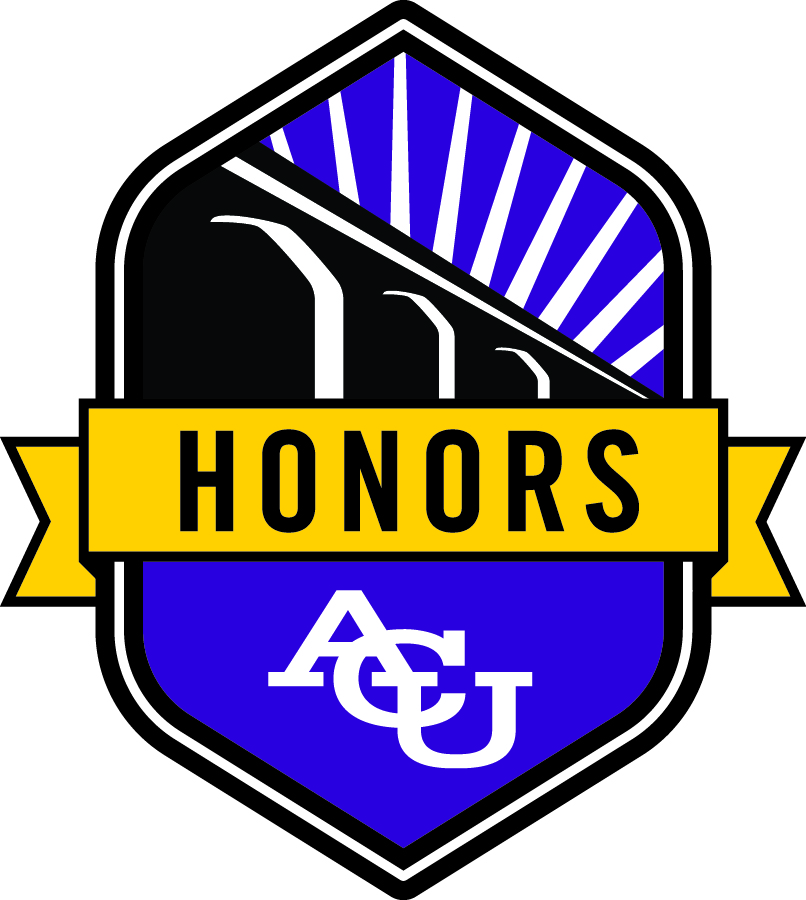 The Honors College at ACU exists to enable students to get the most out of their academic experience by creating the space for—and rewarding participation in—challenging intellectual work. This is achieved through three mediums: Honors sections of required lower-level classes, colloquia, and upper-level work in your major. By combining these in different ways, an Honors student can graduate with a choice of two distinctions: Honors Graduate, or Honors Scholar.
Depending on which Honors distinction you pursue, you must complete either three (Honors Graduate) or five (Honors Scholar) upper-level units. To graduate as an Honors Scholar, an Honors Project Thesis must be completed in addition to the five upper-level units.
Below, you will find the Honors Project Thesis for our graduating Honors Scholars.
It is an exciting time at ACU and in the Honors College. Thank you for stopping by to check it out.
Dr. Jason Morris
Dean, The Honors College
Directions on How to Submit Your College Project Thesis to DC@ACU
Theses/Dissertations from 2019
Hispanic Studies: Enrollment, Retention, and Graduation Rates in Texas Post-Secondary Education, Adam Andrade
Padawan to Jedi: Using Reinforcement Learning to Train an Agent to Play Mancala, Tiffanie Birrell
Perceived Student Stress in Relation to Attachment Theory with Pets, Baylee Ray Blanton
A Survey and Critique of the Methodologies and Techniques Used in Abilene Christian University's English as a Second Language Classrooms, Hannah Elizabeth Bowling
Behind the Veil: Sin and the Sublime in Nathaniel Hawthorne's Twice-Told Tales, Jacob Tobias Buller
Faith and the Death Penalty: Attitudes of Students at Christian Colleges on Religious Belief and Capital Punishment in the United States, Sarah Conley
Hispanics in Education: A Look into Underrepresentation, Sarah JoAnne Dillinger
Hospitality in Culture: A Study of Differences and Influences of the Hospitality Industry in the U.S. and Western Europe, Catherine Finney
Future Worlds and the Goals of Refugee Children, Tori Ford
Optimist Design Guide, Lauren Franco
Who's Your Daddy?: A Psychological Analysis of Father-Son Relationships in Rushmore and The Royal Tenenbaums, Hattie Jane Johnson
The Influence of Spanish within the Identity of Chicano Children: Discourse analysis in Rudolfo Anaya, Sandra Cisneros, Mario Alberto Zambrano, and Erika Sanchez, Magda Virginia Rodriguez
Exploration of Human Nature in the Federalist Papers, Jenna Ashley Salzman
Environmental Audit of Abilene Christian University Dormitories, Kaitlyn Alexandria Saucedo
The Character Within: Understanding the Use of Personality Assessments for Managerial Effectiveness, Yesenia Ruby Soria
Expression vs. Expectation: A Look into Patients' Perspectives on Professional Appearance in Physical, Speech or Occupational Therapists with and without Body Art, Catherine Joy Swedlund
An Analysis of the Impact of Immigration on the Labor Market and Economy, Shelby Lynn Weddle
Jerry Cans and Gender: The Necessity of Women's Inclusion in Clean Water Development Work, Samantha Young
Theses/Dissertations from 2018
Collective Experience: Race and Perceptions of Christian Suffering Amongst College Students, Abbey Green
Cambiando el canal: An ethnographic study on American Latino audiences' "preferred" Spanish media outlet based on their ethnic dialect, demographic location and adolescent upbringing, Emily A. Guajardo
Assessment of the Genetic Diversity of the Abilene Christian University Feral Cat Population Through the Use of Mitochondrial Genes, Carley Paige Johnson
The Red Wilderness: Mark and Modern Western Storytelling, Nathan Kent Jowers
A Comparative Treatment Approach for Childhood Apraxia of Speech, Audrey Kinzinger
Jacob's Dream 3D Recreation Postmortem, Caleb Martin
Employee Engagement in Abilene, TX, Madeline Moore
The Life and Experiences of the East German Woman, Mackenzie Elizabeth Sanderson
The Abilene Swim Club: An Advertising Rebrand, Katherine Leigh Scott
Church Health: A Comparison of the Clergy and Laity Perspectives on the Church's Discipleship, Spiritual Formation, and Outreach, Bryn Stonehouse
The Role of Histone Variant H2A.Z During the Oxidative Stress in Budding Yeast, Julia Elizabeth Taylor
The Cry of the Cymry: The Linguistic, Literary, and Legendary Foundations of Welsh Nationalism as it Developed Throughout the 19th Century, McKinley Terry
Simulation Scenario of a Postpartum Hemorrhage following Placental Abruption, Federica Giorgia Vinera
'The Worst of All': The Intellectual Authorization of Sor Juana Ines de la Cruz and the Lady Margaret Cavendish, Duchess of Newcastle, Savannah Weeks
Theses/Dissertations from 2017
Parents' Perceptions of the Benefits of Practices Used by Child Life Specialists to Improve the Hospitalization Experience: A Phenomenological Approach, Annie Bailey
Intergenerational Connections and Multidimensional Well-Being in Older Adults in Retirement Communities, Lakin J. Carpenter
Marriage Games: A Game Theory Exploration of Marital Relationships, Barrett R. Corey
Hot or Not: the Reality of Body Image Perceptions in the 21st Century for Female College Students, Raychel Duncan
Effect of the TNR Program on Genetic Diversity of the Feral Cat Population at Abilene Christian University, Kimery Lin Hankins
Sub-cloning Genes of the Mevalonate Pathway from Enterococcus faecalis into pDUET and pET28, Madison Anne Harris
A Home Away from Home: A Business Plan for the Relocation of Refugees in Abilene, Rachael Kroeger
"It Is No Miracle": A Methodological Discussion Of Medieval Natural Medicine And Early Modern European Corpse Medicine, Adam Lubbers
Gadgets and Grieving: A Chronological Analysis on the Ways in Which Advancements in Medical Technologies Have Altered the Grieving Process, Grace Elaine McNair
Dehydration in Nursing Home Residents: A meta-analysis of causes of dehydration, implications, and those most at risk., Carolyn Grace Miller
A Blessing to All Nations: Examining Call Narratives in the Hebrew Bible, Brianna Rideout
Creating a Medical Nonprofit, Kelsie Roberts
The Crime and the Criminal: Perceptions of Crime Seriousness, Amanda Stephens
"Anyone Can Change the World": An Ethnography of Design For Change, Courtney Tee
Anne of Cleves: Enigmatic Queen, Courtney Thate
Theses/Dissertations from 2016
Measuring the Accuracy of Client Satisfaction Data for CSHCN, Chiara Heyer
Childhood Obesity in the United States: A Public Health Analysis, Tina Ann Johnson
The Public Policy Ramifications of Adolescent Pregnancy in Developing Countries, Kirby Briana Lemon