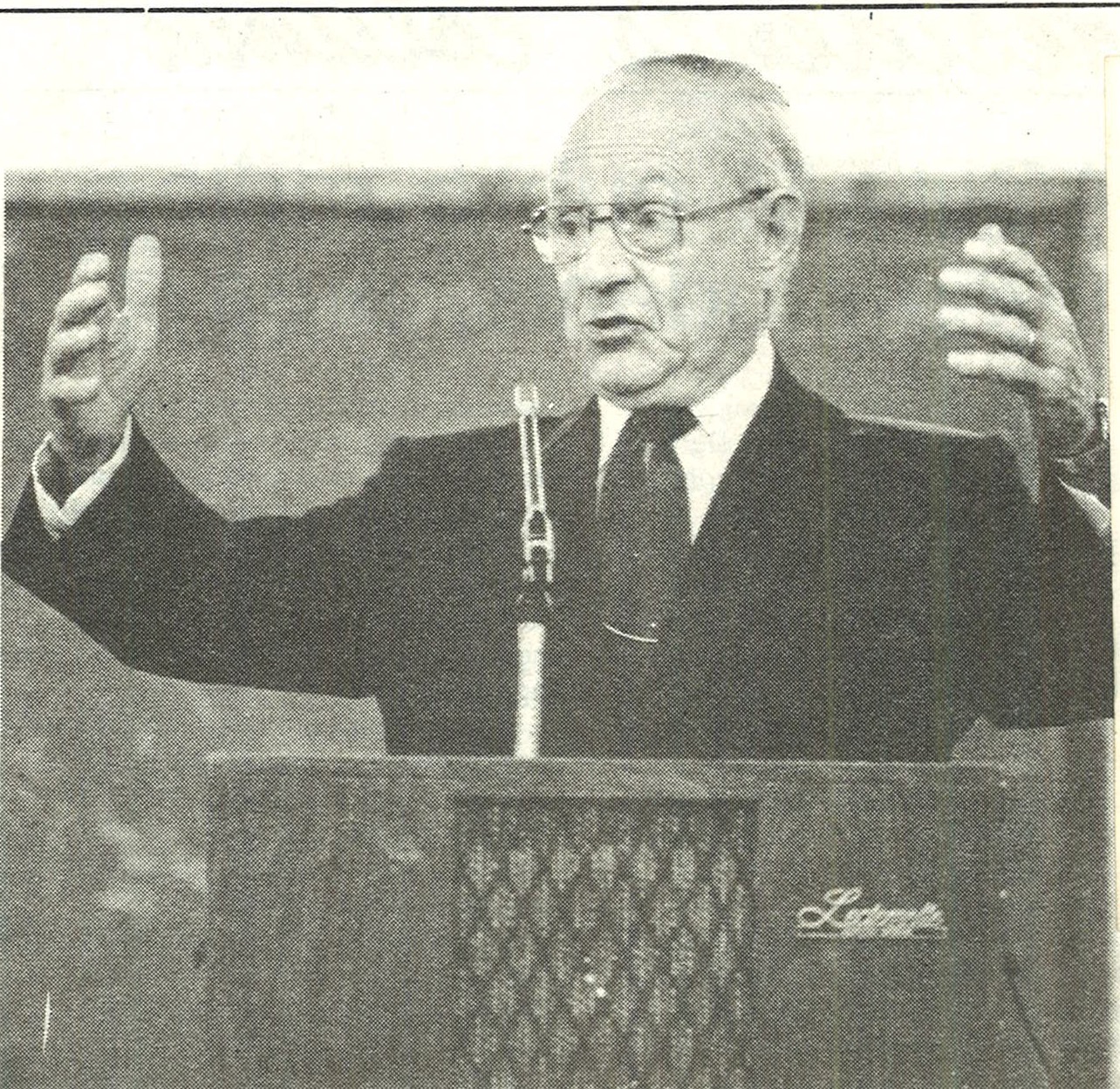 LeMoine Gaunce Lewis spent nearly all of his adult life at Abilene Christian University. He entered Abilene Christian College as a freshmen during the Great Depression. By his sophomore year he earned a full academic scholarship due to his outstanding grade point averages. His outstanding academic performance accompanied interests in campus groups (like forensics and mission study) and athletics (winning the mile-run in 1936).
He obtained further training at Harvard Divinity School, graduating in 1944 with the STB and in 1959 with the PhD degrees. In 1949 he returned to Abilene to teach, remaining until his retirement in 1986. Along the way he taught and preached in area congregations, was active in civic affairs (especially the Rotary Club) and served across campus in many capacities. He was twice president of the Faculty Senate, for fifteen years sponsor of Alpha Chi Honor Society.
Of special interest to him were undergraduate students and Bible majors whom he inspired and encouraged to further their education. Trained in early church history, with particular interest in Origen, Lewis taught at least 24 courses in Hebrew, Greek, and courses in many books of the Bible. Freshman Bible and church history were his favorites. He was twice honored as Teacher of the Year.
These lectures span the breadth of Christian history from the beginnings until the modern period with later emphasis on the American Restoration Movement. Lewis delivered them at University Church of Christ in Abilene, TX.
Submissions from 1975
Church History - Part 1, LeMoine Gaunce Lewis
Jesus and His Church, LeMoine Gaunce Lewis
First Thirty Years of the Church, LeMoine Gaunce Lewis
Church History, LeMoine Gaunce Lewis
What Happened to the Apostles?, LeMoine Gaunce Lewis
Second Thirty Years of the Church, LeMoine Gaunce Lewis
Apostolic Fathers - Highlights of the Second Century, LeMoine Gaunce Lewis
Apostolic Fathers - Ignatius of Antioch, LeMoine Gaunce Lewis
Apostolic Fathers - Part 3, LeMoine Gaunce Lewis
Submissions from 1976
Apostolic Fathers - Part 4, LeMoine Gaunce Lewis
Apostolic Fathers - Part 5, LeMoine Gaunce Lewis
Apostolic Fathers - Part 6, LeMoine Gaunce Lewis
Apologists, LeMoine Gaunce Lewis
Heresies, Schisms and Problems of the Second Century, LeMoine Gaunce Lewis
Heresies, Schisms and Problems of the Second Century - Gnosticism, LeMoine Gaunce Lewis
Heresies, Schisms and Problems of the Second Century, LeMoine Gaunce Lewis
Marcion, LeMoine Gaunce Lewis
Montanists, LeMoine Gaunce Lewis
Church and the State: Pagan Attacks on Christianity, LeMoine Gaunce Lewis
Later Greek Apologists, LeMoine Gaunce Lewis
Heresies of the Late Second Century and the Defense Mechanism Developed, LeMoine Gaunce Lewis
Beginnings of Latin Christianity - The Latin Apologists, LeMoine Gaunce Lewis
Theologians of the Second Century, LeMoine Gaunce Lewis
Review of First Two Centuries, LeMoine Gaunce Lewis
Beginning of the Third Century - The Severan Persecution, LeMoine Gaunce Lewis
Work of Hippolytus After the Split and His Apostolic Tradition, LeMoine Gaunce Lewis
Last Half of the Third Century - The Great Peace, LeMoine Gaunce Lewis
Events Leading Up to the Great Persecution, LeMoine Gaunce Lewis
Aftermath of the Last Great Persecution, LeMoine Gaunce Lewis
Constantine and the Imperial Church, LeMoine Gaunce Lewis
Submissions from 1977
Trinitarian Controversy in the Time of Constantine, LeMoine Gaunce Lewis
Constantine After Nicaea, LeMoine Gaunce Lewis
Arian Controversy After the Death of Constantine, LeMoine Gaunce Lewis
Victory of Orthodoxy : The Council of Constantinople, 381 A.D., LeMoine Gaunce Lewis
Golden Age of the Fathers - Part 1, LeMoine Gaunce Lewis
Golden Age of the Fathers - Part 2, LeMoine Gaunce Lewis
Augustine, LeMoine Gaunce Lewis
Theological Battles of Augustine, LeMoine Gaunce Lewis
Augustine vs. Pelagius, LeMoine Gaunce Lewis
Christological Controversy, LeMoine Gaunce Lewis
Semi-Pelagianism vs. Semi-Augustinianism, LeMoine Gaunce Lewis
Barbarian Invasions, LeMoine Gaunce Lewis
Justinian, LeMoine Gaunce Lewis
Monks and Missionaries, LeMoine Gaunce Lewis
Gregory the Great: 540-604, LeMoine Gaunce Lewis
What the Middle Ages Inherited from the Ancient Church, LeMoine Gaunce Lewis
Gregory as Pope: 590-604, LeMoine Gaunce Lewis
Christianity in England, LeMoine Gaunce Lewis
Isidore of Seville and the Spanish Church, LeMoine Gaunce Lewis
Christianity in the West in the Seventh and Eighth Centuries, LeMoine Gaunce Lewis
Carolingian Renaissance, LeMoine Gaunce Lewis
King Alfred and the Revival in Britain, LeMoine Gaunce Lewis
Iconoclastic Controversy, LeMoine Gaunce Lewis
Paulicians, LeMoine Gaunce Lewis
West After Charlemagne and the Image Controversy, LeMoine Gaunce Lewis
Golden Age of the Byzantine Empire, LeMoine Gaunce Lewis
Age of Pornocracy, LeMoine Gaunce Lewis
Submissions from 1978
End of the First Thousand Years and the Great Schism, LeMoine Gaunce Lewis
Great Schism: 1054, LeMoine Gaunce Lewis
Missionary Work in the Middle Ages, LeMoine Gaunce Lewis
Norman Conquests, LeMoine Gaunce Lewis
Climax of the Investiture Controversy, LeMoine Gaunce Lewis
First Crusade, LeMoine Gaunce Lewis
Close of the Investiture Controversy, LeMoine Gaunce Lewis
Early Scholasticism, LeMoine Gaunce Lewis
More Early Scholastics, LeMoine Gaunce Lewis
New Monastic Orders and More Schoolmen, LeMoine Gaunce Lewis
Rise of the Anti-Churchly Sects and Inquisition, LeMoine Gaunce Lewis
Second Stage of the Church-State Controversy, LeMoine Gaunce Lewis
Heresy in the Twelfth Century, LeMoine Gaunce Lewis
Innocent III: 1198-1216, LeMoine Gaunce Lewis
Mendicant Orders (the Friars), Dominicans and Franciscans, LeMoine Gaunce Lewis
Martin Luther, LeMoine Gaunce Lewis
Review of the First Thirteen Centuries, LeMoine Gaunce Lewis
High Point of Medieval Theology, LeMoine Gaunce Lewis
Continuing Church-State, Investiture Struggle, LeMoine Gaunce Lewis
Avignon Papacy and the Great Schism, LeMoine Gaunce Lewis
Mystics, LeMoine Gaunce Lewis
Advocates of Reform, LeMoine Gaunce Lewis
John Wycliffe: The Morning Star of the Reformation, LeMoine Gaunce Lewis
John Hus, LeMoine Gaunce Lewis
Submissions from 1979
Conciliar Movement and the Reforming Councils, LeMoine Gaunce Lewis
Conciliar Movement and the Reforming Councils - Basel and Ferrare-Florence, LeMoine Gaunce Lewis
Renaissance - Part 1, LeMoine Gaunce Lewis
Renaissance - Part 2, LeMoine Gaunce Lewis
Renaissance - Part 3: The Renaissance Popes, LeMoine Gaunce Lewis
Renaissance - Part 4: The Renaissance Popes, LeMoine Gaunce Lewis
Renaissance - Part 5: The Renaissance Popes, LeMoine Gaunce Lewis
Savonarola: 1452-1498, LeMoine Gaunce Lewis
Renaissance in Northern Europe, LeMoine Gaunce Lewis
Erasmus, LeMoine Gaunce Lewis
Close of the Middle Ages, LeMoine Gaunce Lewis
Reformation - Differing Evaluations and Descriptions, LeMoine Gaunce Lewis
Reformation - The Early Years of Martin Luther, LeMoine Gaunce Lewis
Reformation - The Early Years of Martin Luther, LeMoine Gaunce Lewis
Luther Before Cajetan and Miltitz, LeMoine Gaunce Lewis
Leipzig Debate, LeMoine Gaunce Lewis
Stormy Days of Luther's Break with Rome, LeMoine Gaunce Lewis
Luther at Worms, LeMoine Gaunce Lewis
Luther at the Wartburg Castle, LeMoine Gaunce Lewis
Luther and the Beginnings of a Lutheran Church, LeMoine Gaunce Lewis
Submissions from 1980
Luther Suffers Losses, LeMoine Gaunce Lewis
Reformation - Part 11, LeMoine Gaunce Lewis
Huldreich Zwingli: The Reformer of German Switzerland - Part 1, LeMoine Gaunce Lewis
Huldreich Zwingli : The Reformer of German Switzerland - Part 2, LeMoine Gaunce Lewis
Huldreich Zwingli: The Reformer of German Switzerland - Part 3, LeMoine Gaunce Lewis
Huldreich Zwingli: The Reformer of German Switzerland - Part 4, LeMoine Gaunce Lewis
Huldreich Zwingli: The Reformer of German Switzerland - Zwingli's Death, LeMoine Gaunce Lewis
Anabaptists - Part 1, LeMoine Gaunce Lewis
Anabaptists - Part 2, LeMoine Gaunce Lewis
Anabaptists - Part 3, LeMoine Gaunce Lewis
Anabaptists - Part 4, LeMoine Gaunce Lewis
Anabaptists - Part 5, LeMoine Gaunce Lewis
Anabaptists - Part 6, LeMoine Gaunce Lewis
Anabaptists - Part 7, LeMoine Gaunce Lewis
Anabaptists - Part 8: The Mennonites, LeMoine Gaunce Lewis
John Calvin's Early Years, LeMoine Gaunce Lewis
Calvin's Institutes of the Christian Religion, LeMoine Gaunce Lewis
Seventy-fifth Anniversary Homecoming Chapel (featuring A Cappella), LeMoine Gaunce Lewis
Submissions from 1981
John Calvin and the Reformation - Part 3, LeMoine Gaunce Lewis
Calvin's First Attempt at Reformation in Geneva, LeMoine Gaunce Lewis
Calvin in Strasbourg, LeMoine Gaunce Lewis
John Calvin and the Reformation - Part 6, LeMoine Gaunce Lewis
John Calvin and the Reformation - Part 7, LeMoine Gaunce Lewis
Triumph Years: 1555-1564, LeMoine Gaunce Lewis
Calvin's Last Days, LeMoine Gaunce Lewis
Henry VIII, LeMoine Gaunce Lewis
Henry VIII - Part 2: Break With Rome, LeMoine Gaunce Lewis
Henry VIII - Part 3, LeMoine Gaunce Lewis
Edward VI, LeMoine Gaunce Lewis
Queen Mary and England's Return to Catholicism, LeMoine Gaunce Lewis
Queen Elizabeth and England's Return to Protestantism, LeMoine Gaunce Lewis
English Bibles in the Reign of Elizabeth, LeMoine Gaunce Lewis
Problems in Elizabeth's England, LeMoine Gaunce Lewis
Triumph of Queen Elizabeth I, LeMoine Gaunce Lewis
Beginning of the Scottish Reformation, LeMoine Gaunce Lewis
Rise of John Knox, LeMoine Gaunce Lewis
John Knox on the Path to Reformation, LeMoine Gaunce Lewis
John Knox as a Reformer in England and on the Continent, LeMoine Gaunce Lewis
Struggle for the Reformation: Mary de Guise, the Lords, and John Knox, LeMoine Gaunce Lewis
Early Years of the Established Scottish Protestant Church, LeMoine Gaunce Lewis
John Knox and Mary Stuart, LeMoine Gaunce Lewis
Submissions from 1982
Triumph of John Knox and Presbyterianism, LeMoine Gaunce Lewis
Counter-Reformation or Romam Reformation and Roman Revival, LeMoine Gaunce Lewis
Early Reform Movements Within the Roman Church, LeMoine Gaunce Lewis
Ignatius Loyola and the Jesuits, LeMoine Gaunce Lewis
Emperor Charles V and the Struggle for Germany, LeMoine Gaunce Lewis
Foreign Missions in the Roman Revival, LeMoine Gaunce Lewis
Great Saints of the Revival, LeMoine Gaunce Lewis
After Trent and the Three Great Reforming Popes, LeMoine Gaunce Lewis
Last Years of Martin Luther, LeMoine Gaunce Lewis
Religious Wars and the Peace of Augsburg, LeMoine Gaunce Lewis
Lutheranism in the Scandinavian Countries, LeMoine Gaunce Lewis
Times of James I of England, LeMoine Gaunce Lewis
King James Bible, LeMoine Gaunce Lewis
Huguenots: The Reformation in France - Part 1, LeMoine Gaunce Lewis
Huguenots: The Reformation in France - Part 2, LeMoine Gaunce Lewis
Huguenots: The Reformation in France - Part 3, LeMoine Gaunce Lewis
Huguenots: The Reformation in France - Part 4, LeMoine Gaunce Lewis
Socinianism - Part 1, LeMoine Gaunce Lewis
Socinianism - Part 2, LeMoine Gaunce Lewis
Socinianism - Part 3, LeMoine Gaunce Lewis
Socinianism - Part 4, LeMoine Gaunce Lewis
Socinianism - Part 5, LeMoine Gaunce Lewis
Socinianism - The Rakowian Catechism, LeMoine Gaunce Lewis
Eastern Orthodox Church in the Reformation Period, LeMoine Gaunce Lewis
Submissions from 1983
Dutch Reformation - Part 1, LeMoine Gaunce Lewis
Dutch Reformation - Part 2, LeMoine Gaunce Lewis
Melanchthon, LeMoine Gaunce Lewis
Heinrich Bullinger, LeMoine Gaunce Lewis
Martin Bucer, LeMoine Gaunce Lewis
Theodore Beza, LeMoine Gaunce Lewis
Thirty Years War, LeMoine Gaunce Lewis
Rise of the Congregationalists, LeMoine Gaunce Lewis
Baptists, LeMoine Gaunce Lewis
Triumph of Presbyterianism and Independancy Over Anglicanism, LeMoine Gaunce Lewis
Settlement in England: The Restoration and the Glorious Revolution, LeMoine Gaunce Lewis
Beginnings of the Modern Period of Church History, LeMoine Gaunce Lewis
George Fox and the Society of Friends (Quakers), LeMoine Gaunce Lewis
Spread of the Quakers in the Face of Persecution, LeMoine Gaunce Lewis
Deists, LeMoine Gaunce Lewis
Second and Third Generation of Deists, LeMoine Gaunce Lewis
Church's Answer to Deism, LeMoine Gaunce Lewis
Church in France Under Louis XIV: Jesuits, Huguenots, Gallicanism..., LeMoine Gaunce Lewis
Devotional Treasures from the Golden Age of France, LeMoine Gaunce Lewis
Rome and Jesuits vs. Quietists in the Golden Age of France, LeMoine Gaunce Lewis
French Naturalism, LeMoine Gaunce Lewis
French Revolution, LeMoine Gaunce Lewis
French Attempt to Replace Christianity With a New Religion, LeMoine Gaunce Lewis
Napoleon and the Pope, LeMoine Gaunce Lewis
Submissions from 1984
Germany After the Wars of Religion, LeMoine Gaunce Lewis
Johann Arndt's True Christianity, LeMoine Gaunce Lewis
Philipp Jakob Spener and Pietism, LeMoine Gaunce Lewis
Philip Jakob Spener and the Development of Pietism, LeMoine Gaunce Lewis
Church Beginnings in America - Part 1, LeMoine Gaunce Lewis
Church Beginnings in America - The Protestants, LeMoine Gaunce Lewis
Church Beginnings in America - The Pilgrims of Plymouth, LeMoine Gaunce Lewis
Church Beginnings in America - The Puritans, LeMoine Gaunce Lewis
Church Beginnings in America - Catholicism in the Colonies, LeMoine Gaunce Lewis
Church Beginnings in America - The Baptists, LeMoine Gaunce Lewis
Church Beginnings in America - Denominational Makeup of the 13 Colonies, LeMoine Gaunce Lewis
Church Beginnings in America - The Dutch Reformed Church, LeMoine Gaunce Lewis
Church Beginnings in America - From New Amsterdam to New York, LeMoine Gaunce Lewis
Church Beginnings in America - The Quakers, LeMoine Gaunce Lewis
Church Beginnings in America - William Penn's 'Holy Experiment', LeMoine Gaunce Lewis
Church Beginnings in America - Continental Religious Groups in America, LeMoine Gaunce Lewis
Church Beginnings in America - The Moravian Brethren, LeMoine Gaunce Lewis
Church Beginnings in America - Other German Groups in America, LeMoine Gaunce Lewis
Church Beginnings in America - German Reformed Church, LeMoine Gaunce Lewis
Church Beginnings in America - The Prebyterians, LeMoine Gaunce Lewis
Church Beginnings in America - Scots-Irish Prebyterians, LeMoine Gaunce Lewis
Events and Conditions Leading Up To the Great Awakening, LeMoine Gaunce Lewis
Submissions from 1985
Great Awakening, LeMoine Gaunce Lewis
Great Awakening in the Middle Colonies, LeMoine Gaunce Lewis
Jonathan Edwards and the Great Awakening, LeMoine Gaunce Lewis
Second Great Awakening, LeMoine Gaunce Lewis
George Whitefield and the Evangelical Revival in Britain, LeMoine Gaunce Lewis
Whitefield's Later Years, LeMoine Gaunce Lewis
Jonathan Edwards and New England Theology, LeMoine Gaunce Lewis
Jonathan Edwards at Stockbridge and the Aftermath of the Great Awakening, LeMoine Gaunce Lewis
Aftermath of the Great Awakening, LeMoine Gaunce Lewis
Baptists in America Before the Revolution, LeMoine Gaunce Lewis
Baptists and the Great Awakening in New England, LeMoine Gaunce Lewis
Growth of the Baptists in the Middle Colonies and in the South, LeMoine Gaunce Lewis
John Wesley and the Rise of Methodism, Part 3, LeMoine Gaunce Lewis
John Wesley and the Rise of Methodism - The Oxford Methodists, LeMoine Gaunce Lewis
John Wesley and the Rise of Methodism - The Holy Club, LeMoine Gaunce Lewis
John Wesley and the Rise of Methodism, Part 2, LeMoine Gaunce Lewis
John Wesley and the Rise of Methodism, LeMoine Gaunce Lewis
Wesleys and Methodism in England, LeMoine Gaunce Lewis
Methodist Beginnings in America, LeMoine Gaunce Lewis
Churches and the American Revolution, LeMoine Gaunce Lewis
American Independence, Religious Freedom and the Churches, LeMoine Gaunce Lewis
Protestant Episcopal Church, LeMoine Gaunce Lewis
Reorganization of American Churches After the Revolution, LeMoine Gaunce Lewis
Some Smaller American Churches, LeMoine Gaunce Lewis
Submissions from 1986
Evangelical Revival in Great Britain, LeMoine Gaunce Lewis
Story of a Dream : Unity Through Restoration, LeMoine Gaunce Lewis
Barton W. Stone and the Presbyterians, LeMoine Gaunce Lewis
Cane Ridge Revival, LeMoine Gaunce Lewis
Springfield Presbytery, LeMoine Gaunce Lewis
Barton W. Stone and Kentucky Christians: Early Problems, LeMoine Gaunce Lewis
Barton W. Stone and the Christians in the West, LeMoine Gaunce Lewis
Barton W. Stone, Evangelist of Christian Unity, LeMoine Gaunce Lewis
Rice Haggard, LeMoine Gaunce Lewis
David Purviance, LeMoine Gaunce Lewis