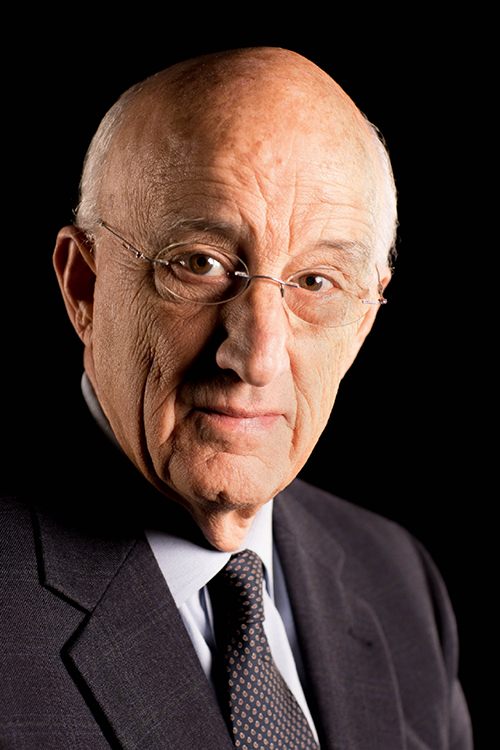 These series of interviews began as a result of a discussion between Dutch Hoggatt, director of the ACU-TV studio, and a local cable provider regarding the possibility of Abilene Christian University producing a 30-minute program per week to be carried on the cable. The early response to the program was positive and the pool for potential interviews expanded beyond the campus and the city of Abilene to include state and national, and occasionally even international guests during visits to Abilene.
The original title of the show was "On-Campus." Hoggatt asked Dr. Gary McCaleb to serve as the host. Early programs included actor Charlton Heston, authors Alex Haley and James Michener, golfer Gary Player, and Charles Passel, who joined an Admiral Byrd exploration.
When McCaleb ran for the office of mayor of Abilene and then served in that position during the 1990s, the program was suspended. It later resumed with the name "McCaleb and Company." On August 2, 2006, he received the Texas Oral History Association's Barnes Award for excellence in community oral history.
Dr. McCaleb completed his ninth year and third term as mayor of the city of Abilene in 1999. He was president of the Texas Municipal League in 1993, and served on the advisory boards of the National League of Cities and the U.S. Conference of Mayors, and was the U.S. representative to the World Executive Committee of the International Union of Local Authorities.
Dr. McCaleb is vice president of Abilene Christian University and executive director of the Center for Building Community. He has been with ACU over 50 years.
Submissions from 2014
On Campus Video, Featuring Bobby Richardson, Gary McCaleb and Abilene Christian University
On Campus Video, Featuring Sharon Tennison, Gary McCaleb and Abilene Christian University
Submissions from 2000
On Campus Video, Featuring Bob Tiffany., Abilene Christian University and Gary McCaleb
On Campus Video, Featuring Leo Scott., Abilene Christian University and Gary McCaleb
Submissions from 1999
On Campus Video, Featuring Judy Matthews., Abilene Christian University and Gary McCaleb
Submissions from 1991
On Campus Video, Featuring Aaron George and George Keidii, Abilene Christian University and Gary McCaleb
On Campus Video, featuring Abilene Independent School District Superintendent Dr. Wayne Blevins and Abilene School Board President Mike Young., Abilene Christian University, Gary McCaleb, Wayne Blevins, and Mike Young
On Campus Video, featuring Alan Loy McGinnis., Abilene Christian University, Gary McCaleb, and Alan Loy McGinnis
On Campus Video, Featuring Alex Haley, Abilene Christian University and Gary McCaleb
On Campus Video, featuring Antarctic explorer Charles Passel., Abilene Christian University, Gary McCaleb, and Charles Passel
On Campus Video, Featuring Arlie Hoover, Abilene Christian University and Gary McCaleb
On Campus Video, Featuring Arthur Duncan, Abilene Christian University and Gary McCaleb
On Campus Video, Featuring Arthur Holmes, Abilene Christian University and Gary McCaleb
On Campus Video, Featuring artist and sculptor Juanita Tittle Pollard., Abilene Christian University and Gary McCaleb
On Campus Video, Featuring Betty Muns., Abilene Christian University and Gary McCaleb
On Campus Video, Featuring Betty Trafton, Abilene Christian University and Gary McCaleb
On Campus Video, Featuring Bill and DeeDee Hutchison., Abilene Christian University and Gary McCaleb
On Campus Video, Featuring Bill Clayton, former speaker of the Texas House of Representatives, and Bob Armstrong, former Commissioner of the General Land Office of the state of Texas., Abilene Christian University and Gary McCaleb
On Campus Video, featuring Bill Halloran, Abilene Christian University, Gary McCaleb, and Bill Halloran
On Campus Video, featuring Bill Petty., Abilene Christian University, Gary McCaleb, and Bill Petty
On Campus Video, Featuring Bill Waugh., Abilene Christian University and Gary McCaleb
On Campus Video, Featuring Bill Wright, Abilene Christian University and Gary McCaleb
On Campus Video, Featuring Billy Kilmer., Abilene Christian University and Gary McCaleb
On Campus Video, featuring Billy Olson., Abilene Christian University, Gary McCaleb, and Billy Olson
On Campus Video, Featuring B.J. Pierce., Abilene Christian University and Gary McCaleb
On Campus Video, featuring B.J. Pierce., Abilene Christian University, Gary McCaleb, and B.J. Pierce
On Campus Video, featuring Bob Bartlett., Abilene Christian University, Gary McCaleb, and Bob Bartlett
On Campus Video, Featuring Bobbis Dociaduis, Abilene Christian University and Gary McCaleb
On Campus Video, featuring Bob Buford., Abilene Christian University, Gary McCaleb, and Bob Buford
On Campus Video, featuring Bobby Mercer., Abilene Christian University, Gary McCaleb, and Bobby Mercer
On Campus Video, Featuring Bobby Ray (B. R.) Inman, Abilene Christian University and Gary McCaleb
On Campus Video, Featuring Bob Coffee, Abilene Christian University and Gary McCaleb
On Campus Video, featuring Bob Krueger, then a candidate for the U.S. Senate.., Abilene Christian University, Gary McCaleb, and Bob Krueger
On Campus Video, Featuring Bob Privitt, Abilene Christian University and Gary McCaleb
On Campus Video, Featuring Bob St. John, Abilene Christian University and Gary McCaleb
On Campus Video, Featuring Bob Test, Abilene Christian University and Gary McCaleb
On Campus Video, featuring Brant Bryan., Abilene Christian University, Gary McCaleb, and Brant Bryan
On Campus Video, Featuring Brenda Dillard, Don McMullin, and Paige Sermon, Abilene Christian University and Gary McCaleb
On Campus Video, Featuring Brent Casey, Chairman of the Republican Party for Taylor County (TX)., Abilene Christian University and Gary McCaleb
On Campus Video, Featuring Brian Bainbridge., Abilene Christian University and Gary McCaleb
On Campus Video, Featuring Bruce Davis, Abilene Christian University and Gary McCaleb
On Campus Video, Featuring Bud Stumbaugh, Abilene Christian University and Gary McCaleb
On Campus Video, Featuring Byron Nelson, Abilene Christian University and Gary McCaleb
On Campus Video, Featuring Capt. Eugene Barker, Abilene Christian University and Gary McCaleb
On Campus Video, Featuring Carl Brecheen, Abilene Christian University and Gary McCaleb
On Campus Video, Featuring Carley Dodd, Abilene Christian University and Gary McCaleb
On Campus Video, Featuring Carl Williams, Abilene Christian University and Gary McCaleb
On Campus Video, featuring Carol Brown., Abilene Christian University, Gary McCaleb, and Carol Brown
On Campus Video, Featuring Carol Everett, Abilene Christian University and Gary McCaleb
On Campus Video, Featuring Caroline Philpott, Nancy Henderson and Newt Newbery, Abilene Christian University and Gary McCaleb