Preview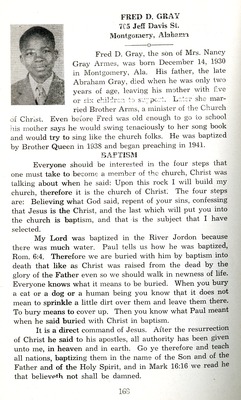 Material Type
Printed Material
Global History Chapter
11. Responses to United States Social Change, 1960s-2011
Contributor
Abilene Christian University Special Collections and Archives
Creative Commons License


This work is licensed under a Creative Commons Attribution-Noncommercial-No Derivative Works 4.0 License.
Source
From Annie C. Tuggle, Our Ministers and Song Leaders of the Church of Christ. Detroit: Annie C. Tuggle, 1945, page 168.
Description
This photograph, biographical sketch, and short essay on baptism by Fred Gray was included by Annie Tuggle as an example of one of the young men preparing for Christian service under the tutelage of Marshall Keeble at Nashville Christian Institute.
Comments
Tuggle's book is an invaluable and unparalleled source of information by and about African American Churches of Christ and their leaders. Ask students to reflect on how this image and essay reveal how young men were prepared for service and their talents nurtured. A decade hence, Fred Gray would become a leading attorney in the emerging Civil Rights Movement and maintain strong ties with Churches of Christ as a teacher, preacher, and elder. The full text of the book is available for download at: https://digitalcommons.acu.edu/crs_books/238/.