Preview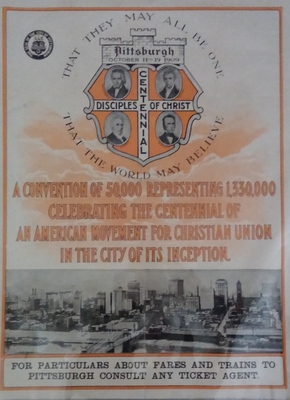 Library of Congress Subject Headings
Restoration movement (Christianity), Restoration movement (Christianity)--Church membership.
Global History Chapter
9. Disciples of Christ: Cooperation and Division
Creative Commons License


This work is licensed under a Creative Commons Attribution-Noncommercial-No Derivative Works 4.0 License.
Description
A poster advertising the 1909 centennial convention of the Disciples of Christ held in Pittsburgh, Pennsylvania. The caption on the poster reads, "A convention of 50,000 representing 1,330,000 celebrating the centennial of an American movement for Christian union in the city of its inception." The crest at the top of the poster incorporates pictures of Thomas Campbell, Barton W. Stone, Alexander Campbell, and Walter Scott.
Comments
Metadata description by Chance Juliano
Keywords
Restoration Movement History, Disciples of Christ Centennial Convention 1909, Disciples of Christ Centennial Convention, Disciples Centennial Convention, Christian unity, Disciples of Christ in the 20th Century, Disciples of Christ, Restoration Movement, Stone-Campbell Movement 20th century
COinS