Preview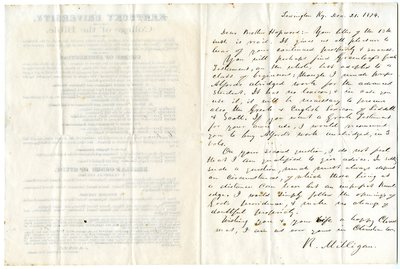 Date of Creation
12-21-1874
Material Type
Printed Material
Library of Congress Subject Headings
Christian universities and colleges, Churches of Christ--History., Education, Higher., Restoration movement (Christianity)--History|y19th century.
Global History Chapter
5. Drivisions in North America: The Emergence of the Churches of Christ and the Disciples of Christ
Contributor
Milligan College
Creative Commons License


This work is licensed under a Creative Commons Attribution-Noncommercial-No Derivative Works 4.0 License.
Description
Letter from Robert Milligan to Josephus Hopwood, dated December 21, 1874 from Lexington, Kentucky. In this letter, Robert Milligan congratulates Josephus Hopwood on his success and provides Hopwood titles of resources he should read, including Liddell and Scott's Greek-English Lexicon. In the early 1870s, Josephus Hopwood attended the College of the Bible at Kentucky University, where he studied under Robert Milligan and J. W. McGarvey. Both Milligan and McGarvey were prominent Diciples of Christ leaders of the Stone-Campbell Movement. This letter was written several months after Josephus and his wife Sarah Eleanor LaRue Hopwood were married on August 19, 1874 in the Antioch Christian Church in Oldham County, Kentucky. In August 1875, Josephus and Sarah Hopwood arrived in Carter County, Tennessee, at the Buffalo Male and Female Institute (now Milligan College), where they worked as administrators. In 1881, Hopwood renamed the school to Milligan College after Robert Milligan, his beloved professor. On the reverse side of the letter is a document related to courses at the College of the Bible at Kentucky University.
Comments
Metadata description by Chance Juliano
Keywords
Robert Milligan, Josephus Hopwood, Buffalo male and female institute, Milligan college, College of the Bible at Kentucky University
COinS