Preview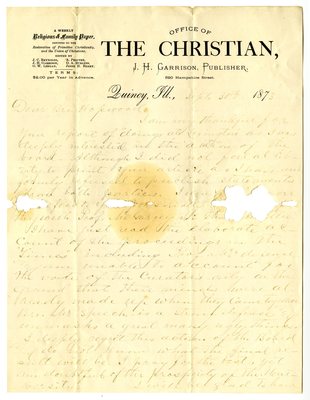 Date of Creation
9-30-1873
Material Type
Printed Material
Library of Congress Subject Headings
Restoration movement (Christianity), Restoration movement (Christianity)--History|y19th century.
Global History Chapter
9. Disciples of Christ: Cooperation and Division
Contributor
Milligan College
Creative Commons License


This work is licensed under a Creative Commons Attribution-Noncommercial-No Derivative Works 4.0 License.
Description
J. H. Garrison served as editor of The Christian, which later became The Christian-Evangelist. In this letter, J. H. Garrison writes to Josephus Hopwood from Quincy, Illinois, thanking Hopwood for submitting an article but explains he cannot print it because of a policy not to publish "statements from both parties." The article and issue related Prof. J. W. McGarvey, then at Kentucky University (later called Transylvania University) and a decision by the board. Holes exist in the letter at precisely the points where Garrison's view would be clear. There is writing on both sides of letter. The accompanying envelope used to send the letter is also included.
Comments
Metadata description by Chance Juliano
Keywords
J. H. Garrison, Josephus Hopwood, The Christian, The Christian Evangelist, James H. Garrison
COinS