Preview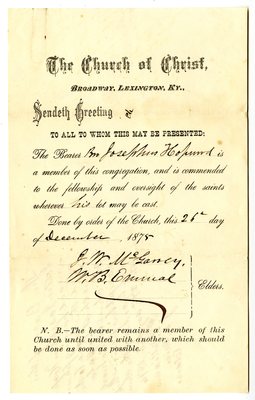 Date of Creation
12-26-1875
Material Type
Printed Material
Library of Congress Subject Headings
Churches of Christ--History., Restoration movement (Christianity), Restoration movement (Christianity)--Church membership.
Global History Chapter
5. Drivisions in North America: The Emergence of the Churches of Christ and the Disciples of Christ
Creative Commons License


This work is licensed under a Creative Commons Attribution-Noncommercial-No Derivative Works 4.0 License.
Description
Letter of membership written and signed by J.W. McGarvey and W.B. Emmal to allow Josephus Hopwood to transfer from The Church of Christ located in Broadway, Kentucky. On the back, it is written that "the Church at Buffalo" (then Buffalo Creek Christian Church and now called Hopwood Memorial Christian Church) accepted him February 27, 1876. Hopwood Memorial Christian Church is located in Carter County, Tennessee, beside Milligan College.
Comments
metadata description by Chance Juliano
Keywords
Church of Christ membership, J.W. McGarvey, W.B. Emmal, Josephus Hopwood, Church transfer
COinS