Preview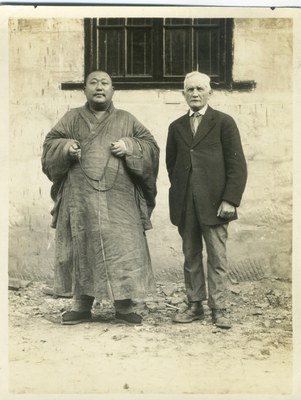 Date of Creation
4-19-1926
Library of Congress Subject Headings
Missions, Restoration movement (Christianity)--Evangelistic work.
Global History Chapter
7. The Expansion of World Missions, 1874-1929
Contributor
Christian Theological Seminary
Creative Commons License


This work is licensed under a Creative Commons Attribution-Noncommercial-No Derivative Works 4.0 License.
Description
The caption on the reverse of the photo reads: "Buddhist priest and Dr. Macklin, Nanking, April 19,1926, W.R. Warren." William E. Macklin played an influential role in missionary efforts to China. This picture depicts Macklin with a Buddhist priest in Nanjing, China.
Comments
Metadata description by Chance Juliano
Keywords
Disciples of Christ Missions, Disciples of Christ missionary efforts to China, Christian Missions in China, China, William E. Macklin, William Macklin, Macklin, Evangelism, Nanjing China, Nanjing
COinS