Title
Preview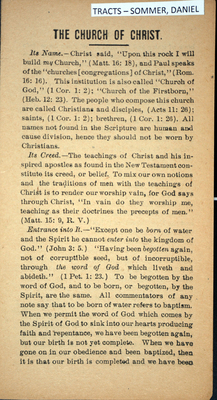 Material Type
Printed Material
Library of Congress Subject Headings
Churches of Christ--History., Restoration movement (Christianity), Restoration movement (Christianity)--History|y19th century.
Global History Chapter
5. Drivisions in North America: The Emergence of the Churches of Christ and the Disciples of Christ
Contributor
Beaman Library Special Collections and Archives, Lipscomb University
Creative Commons License


This work is licensed under a Creative Commons Attribution-Noncommercial-No Derivative Works 4.0 License.
Description
In a brief four pages, D. A. Sommer, son of Daniel Sommer, explains the Church of Christ: its name, its creed, entrance into it, its government, its work, its worship, and its finances. Sommer describes the Church of Christ as opposing the doctrine of men and being committed to the Word of God. The teachings of Christ compose the creed of the Church of Christ.
Comments
Description by Richard Hughes
Submitted by Chance Juliano
Keywords
Daniel Austen Sommer, D.A. Sommer, Church of Christ, Church of Christ 19th Century history
COinS