Preview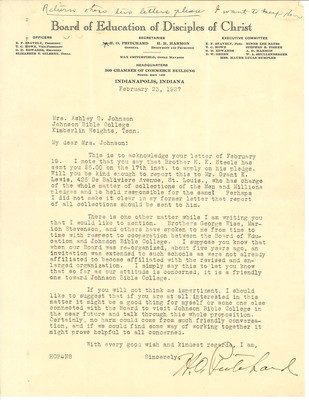 Material Type
Printed Material
Library of Congress Subject Headings
Christian universities and colleges, Education, Higher., Restoration movement (Christianity), Women in Christianity.
Global History Chapter
10. The Emergence of Christian Churches/Churches of Christ
Contributor
Johnson University
Creative Commons License


This work is licensed under a Creative Commons Attribution-Noncommercial-No Derivative Works 4.0 License.
Description
his 1927 correspondence between president of Johnson Bible College (JBC), Emma Johnson (1863-1927), and Secretary of the Board of Education of Disciples of Christ, H. O. Pritchard, consist of Pritchard's invitation to Johnson Bible College to cooperate with the Board, Emma's denial, and Pritchard's response. The letters reveals Johnson's firm stance on the independent nature of JBC, not only for theological but also pragmatic reasons. It demonstrates the tensions between "cooperatives" and "independents" in the 1920s and the process by which an institution could be invited to affiliate with the progressive Board of Education. Beyond that, it shows the work of one of the first female presidents of a college in the United States.
Comments
Metadata description by Chance Juliano
Keywords
Correspondence between H.O. Pritchard and Emma Johnson, Correspondence between Pritchard and Johnson, H.O. Pritchard, Emma Johnson, Johnson Bible College, Women in Higher Education, Female leaders in Higher Education
COinS