Preview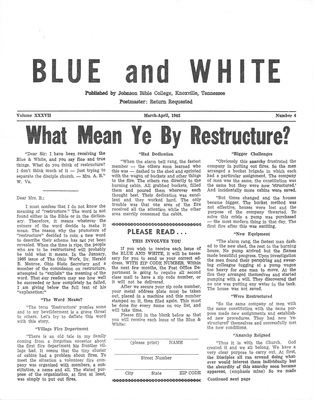 Material Type
Printed Material
Library of Congress Subject Headings
Restoration movement (Christianity), Restoration movement (Christianity)--Church controversies., Restoration movement (Christianity)--Periodicals.
Global History Chapter
9. Disciples of Christ: Cooperation and Division
Contributor
Johnson University
Creative Commons License


This work is licensed under a Creative Commons Attribution-Noncommercial-No Derivative Works 4.0 License.
Source
Bell, Robert M. "What Mean Ye By Restructure?" Blue and White: Published by Johnson Bible College XXXVII, no. 4 (March April, 1965): 1-4.
Description
Bell provided Monroe's fire department analogy of Restructure and responded to it. The article reveals the strong reactions incited by Restructure already in 1965. Bell's response reveals that of a conservative cooperative who had always gone to the both conventions (NACC and International Convention) but did not like Restructure.
Comments
Metadata description by Chance Juliano
Keywords
Robert Monroe Bell, Robert Bell, Restructure within the Disciples of Christ, Restructure and Disciples, Restructure and the Restoration Movement, The Blue and White, Bell on Restructure
COinS