Preview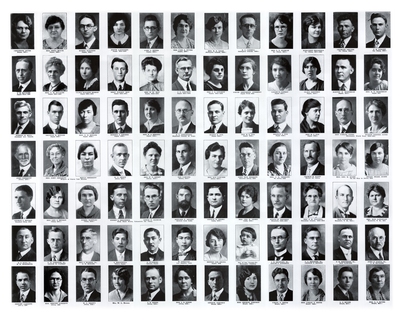 Library of Congress Subject Headings
Churches of Christ--History., Missions--Churches of Christ., Missions, Women in Christianity.
Global History Chapter
7. The Expansion of World Missions, 1874-1929
Contributor
Dr. C. Philip Slate, Betty Burton Choate
Creative Commons License


This work is licensed under a Creative Commons Attribution-Noncommercial-No Derivative Works 4.0 License.
Description
This pictorial was compiled and distributed by Don Carlos Janes to raise awareness of and garner support for foreign missionaries from Churches of Christ. Janes urged the pictorial to be placed in church buildings so that church members may see the faces of the missionaries they support and as a reminder to pray for missions. Janes issued at least two such pictorials; this is the larger of the two with 84 persons pictured. This digital file was presented to Center for Restoration Studies by Dr. C. Philip Slate and Betty Burton Choate. It is an enhanced digital facsimile from an original; creases, wrinkles and blemishes were removed and retouched. The pictorial served as the basis for Slate's book Lest We Forget: Mini-biographies of Missionaries From A Bygone Generation. Winona, MS: J. C. Choate Publications, 2010. While not an exhaustive composite of missionaries supported by Churches of Christ, Janes' pictorial documents the scope of global missions and documents the high percentage of women missionaries. Undated, it probably dates to the early 1930s. The unnamed child is Harry Robert Fox, Jr. (see Missionary Messenger, April 1940, front cover).
Comments
Date of creation is estimated.
Metadata description by Chance Juliano