Preview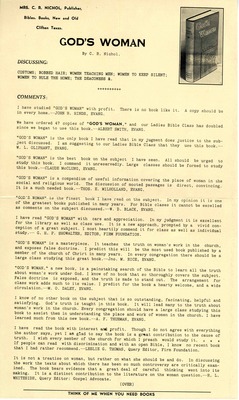 Material Type
Printed Material
Library of Congress Subject Headings
Churches of Christ--History., Churches of Christ--Texas., Restoration movement (Christianity), Women in Christianity.
Global History Chapter
4. The Expanding Role of Women in the United States, 1874-1920
Contributor
Joe Johnson Collection, Center for Restoration Studies, Submitted by: Mac Ice
Creative Commons License


This work is licensed under a Creative Commons Attribution-Noncommercial-No Derivative Works 4.0 License.
Source
Promotional flyer for "God's Woman" by C.R. Nichol
Description
A flyer advertising Nichols' 1938 book, God's Woman published both by Mrs. C. R. Nichol and Wm. B. Eerdmans Publishing Company. This flyer contains testimonials commending the book by some of the most notable evangelists, editors, educators and preachers among Churches of Christ: W. L. Oliphant, T. E. Milholland, G. H. P. Showalter, Leslie G. Thomas, R. L. Whiteside, N. B. Hardeman, Guy N. Woods and Gus Nichols. Nichol's book argued for expanded speaking roles for women in the assembly and deaconesses.
Comments
Metadata description by Chance Juliano
Keywords
Women's Roles, Women and Christianity, Women in the Stone-Campbell Movement, Women in the Restoration Tradition, Women in the Churches of Christ, C.R. Nichol, God's Woman, W.L. Oliphant, T.E. Milholland, G.H.P. Showalter, Leslie G. Thomas, R.L. Whiteside, N.B. Hardeman, Guy N. Woods, Gus Nichols, Charles Ready Nichol
COinS