Preview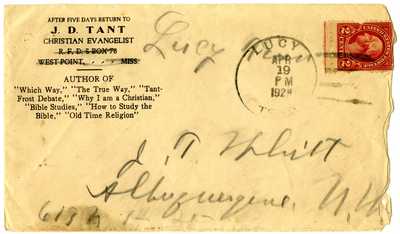 Date of Creation
4-18-1928
Material Type
Printed Material
Library of Congress Subject Headings
Churches of Christ--History., Restoration movement (Christianity), Restoration movement (Christianity)--Church membership.
Global History Chapter
8. Churches of Christ: Consolidation and Complexity
Contributor
Milliken Special Collections, Abilene Christian University
Creative Commons License


This work is licensed under a Creative Commons Attribution-Noncommercial-No Derivative Works 4.0 License.
Description
Displayed is the printed personal envelope of J. D. Tant showing the handwritten address to Whitt along with an interesting resume of publications Tant authored. This letter offers a glimpse into the interrelationships among three very well-known evangelists among Churches of Christ in the early part of the twentieth century. For full scans of the letter, with Dr. Christopher Hutson's transcription, contextualization and annotations download the accompanying PDF.
Transcription, contextualization and annotation by Dr. Christopher R. Hutson. Original letter is housed in the Church Leader Vertical File, Center for Restoration Studies, Milliken Special Collections, ACU Library.
Comments
metadata description by Chance Juliano
Keywords
Jefferson Davis Tant, J.D. Tant, James Thomas Whitt, J.T. Whitt, Price Billingsley, Price B., Preachers in the Churches of Christ, Church of Christ Preachers
COinS