Preview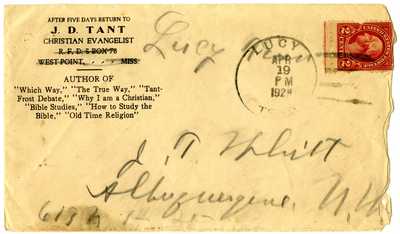 Date of Creation
4-18-1928
Source
Scan and transcription a letter from Jefferson Davis Tant to J. T. Whitt. Transcription, contextualization and annotation by Dr. Christopher R. Hutson. Original letter is housed in the Church Leader Vertical File, Center for Restoration Studies, Milliken Special Collections, ACU Library.
Description
Displayed is the printed personal envelope of J. D. Tant showing the handwritten address to Whitt along with an interesting resume of publications Tant authored. For full scans of the letter, with Dr. Christopher Hutson's transcription, contextualization and annotations download the accompanying PDF below.
Teaching Helps
This letter offers a glimpse into the interrelationships among three very well-known evangelists among Churches of Christ in the early part of the twentieth century.