Preview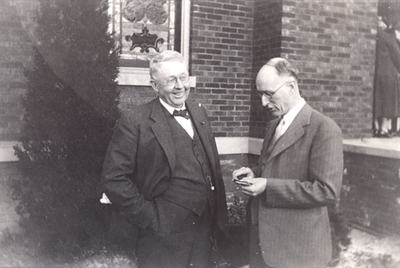 Library of Congress Subject Headings
Restoration movement (Christianity)--Christianity|xDivisions., Restoration movement (Christianity)--Church controversies., Missions
Global History Chapter
18. The Quest for Unity
Contributor
Disciples of Christ Historical Society
Acknowledgment
Caption courtesy of Chalice Press. Chapter titles and numbers used by permission. From Williams, D. Newell, et al. The Stone-Campbell Movement: A Global History. St. Louis: Chalice, 2013.
Creative Commons License


This work is licensed under a Creative Commons Attribution-Noncommercial-No Derivative Works 4.0 License.
Source
"18. The Quest for Unity." In The Stone-Campbell Movement: A Global History, edited by D. Newell Williams, Douglas A. Foster, and Paul M. Blowers, 367-79. St. Louis, Mo.: Chalice Press, 2013.
Description
Photograph depicting John B Cowden (left) and Don Carlos Janes. Cowden was a prominent figure who advocated for reconciliation between Churches of Christ and Christian Churches. Danes was a missionary leader within the Churches of Christ who sought to raise awareness of Church of Christ missionary efforts across the globe.
Comments
Date of creation is estimated.
Metadata description by Chance Juliano
Keywords
Church unity, Ecumenism, John B. Cowden, Cowden, Don Carlos Janes, Janes, Church of Christ and Christian Churches, Church of Christ, Christian Churches
COinS