Title
Preview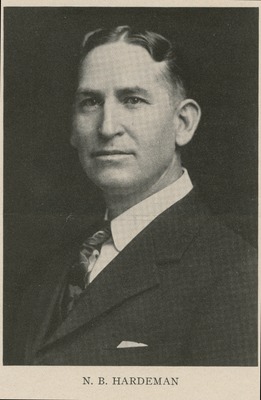 Library of Congress Subject Headings
Christian leadership--Churches of Christ., Churches of Christ--Debates and debating., Churches of Christ--Sermons.
Encyclopedia Entry
Hardeman, Nicholas Brodie (1874-1965)
Global History Chapter
8. Churches of Christ: Consolidation and Complexity
Acknowledgment
Caption courtesy of Wm. B. Eerdmans Publishing Company. Entry titles used by permission. From Foster, Douglas A. et al. The Encyclopedia of the Stone-Campbell Movement. Grand Rapids, Mich.: Eerdmans, 2004.
Creative Commons License


This work is licensed under a Creative Commons Attribution-Noncommercial-No Derivative Works 4.0 License.
Description
A photograph of Nicholas Brodie Hardeman (also known as "N.B. Hardeman")
Comments
Date of creation is estimated.
Metadata description by Chance Juliano
Keywords
Evangelists, Preachers, Educators, N.B. Hardeman, NB Hardeman, N B Hardeman, N. B. Hardeman, Nicholas Hardeman, Nicholas Brodie Hardeman
COinS