Title
Preview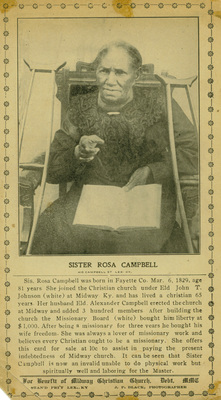 Material Type
Printed Material
Library of Congress Subject Headings
Church work with women., Restoration movement (Christianity), Restoration movement (Christianity)--Evangelistic work., Women in Christianity.
Global History Chapter
2. Developments in the United States to 1866
Acknowledgment
Caption courtesy of Chalice Press. Chapter titles and numbers used by permission. From Williams, D. Newell, et al. The Stone-Campbell Movement: A Global History. St. Louis: Chalice, 2013.
Creative Commons License


This work is licensed under a Creative Commons Attribution-Noncommercial-No Derivative Works 4.0 License.
Description
Print on card below photograph reads: "Sister Rosa Campbell was born in Fayette Co. Mar. 6, 1829, age 81 years. She joined the Christian church under Eld. John T. Johnson (white) at Midway Ky. and has lived a christian 65 years. Her husband Eld. Alexander Campbell erected the church at Midway and added 3 hundred members. After building the church the Missionary board (white) bought him liberty at $1,000. After being a missionary for three years he bought his wife freedom. She was always a lover of missionary work and believes every Christian ought to be a missionary. She offers this card for sale at 10c to assist in paying the present indebtedness of Midway church. It can be seen that sister Campbell is now an invalid unable to do physical work but spiritually well and laboring for the Master."
Comments
Date of creation is estimated.
Submitted by Amanda Dietz.
Keywords
Rosa Campbell, John T. Johnson, Kentucky
COinS