Title
Date Created
Summer 7-8-2019
Preview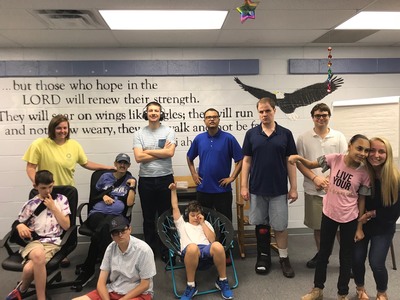 Contributor
Brooks Ave Church of Christ
Date Contributed
Summer 9-1-2018
Church
Brooks Avenue Church of Christ
Description
Ephesians 4:16 states "From him the whole body, joined and held together by every supporting ligament, grows and builds itself up in love, as each part does its work." This picture represents that scripture in a profound way. Barry and Paula Woodhouse started a Spring Carnival for children with special needs and their families in 2000 as a simple day of fun. They loved their daughter Melissa and knew a simple day of fun with no meltdowns or awkward glances, was something that she and others like her got to enjoy often. From that simple act of love, a spark was ignited in the hearts of others who knew and loved Melissa, and with the hands and feet of these countless individuals, and by the grace of God, Brooks Avenue Church of Christ celebrated 19 years of this annual event in 2019 with over 750 guests and over 200 volunteers. The Special Needs Ministry of Brooks Avenue also now hosts a Special Summer Camp, an annual Conference, a weekly supportive class for parents and caregivers, and 2 classes specifically designed for those having special needs called the "Eagles" classes, inspired by Isaiah 40:31. The family of believers and those who visit are constantly greeted by and share in opportunities to love on and be loved by, those that the world has labeled "special." These individuals truly are special in more ways than we can express, and they are making disciples of Jesus every single day.
Blog Post
http://blogs.acu.edu/visiblechurch/2019/07/16/eagles/
Creative Commons License


This work is licensed under a Creative Commons Attribution-Noncommercial-No Derivative Works 4.0 License.
Keywords
Special Neeeds, love, church, fellowship
COinS