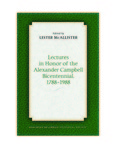 Files
Description
In 1984, the Disciples of Christ Historical Society set forth a program to celebrate the 200th birthday of Alexander Campbell. This book launched a renewed interest in Stone-Campbell history and inspired research that shaped numerous historical projects. Contributors include T. Dwight Bozeman, Robert O. Fife, Richard L. Harrison, Samuel S. Hill, Thomas Olbricht, William J. Richardson, D. Newell Williams, Eva Jean Wrather, and Barbara Brown Zickmund.
Library of Congress Subject Headings
Churches of Christ--History.
Publisher
Disciples of Christ Historical Society
Disciplines
Christian Denominations and Sects | History of Christianity
Recommended Citation
McAllister, Lester; Seale, James M.; Bozeman, Dwight T.; Fife, Robert O.; Harrison, Richard L. Jr.; Hill, Samuel S.; Olbricht, Thomas H.; Richardson, William J.; Williams, D. Newell; Wrather, Eva Jean; and Zikmund, Barbara Brown, "Lectures in Honor of the Alexander Campbell Bicentennial" (1988). ACU Brown Library Monograph Series. .
https://digitalcommons.acu.edu/acu_library_books/23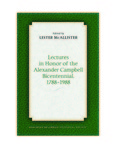 COinS