Preview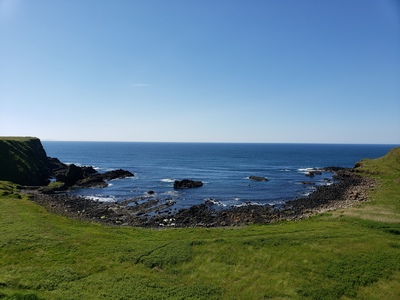 Date of Creation
6-27-2019
Library of Congress Subject Headings
Restoration movement (Christianity)--History|y19th century.
Encyclopedia Entry
Campbell, Alexander
Global History Chapter
1. Emergence of the Stone-Campbell Movement
Contributor
Carisse Mickey Berryhill
Creative Commons License


This work is licensed under a Creative Commons Attribution-Noncommercial-No Derivative Works 4.0 License.
Source
Digital photograph on site
Description
View of the tip of Donegal County, Ireland, on the horizon at left, from the northern coast of Northern Ireland in the vicinity of the Giant's Causeway.
Comments
Use photographs of the distance from the coast of Northern Ireland to Ireland and to Islay to develop geographical awareness in students of the Campbell family's history.
Keywords
Alexander Campbell, Jane Corneigle Campbell, Hibernia (ship), Giant's Causeway, Ireland, Northern Ireland
COinS