Preview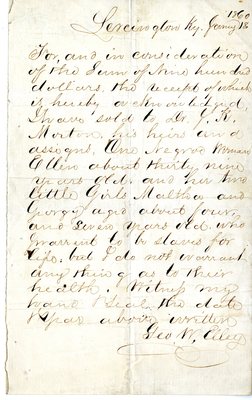 Date of Creation
1-18-1860
Material Type
Printed Material
Library of Congress Subject Headings
Restoration movement (Christianity), Restoration movement (Christianity)--History|y19th century.
Global History Chapter
2. Developments in the United States to 1866
Contributor
Dr. Carisse Berryhill, Milliken Special Collections, Abilene Christian University
Creative Commons License


This work is licensed under a Creative Commons Attribution-Noncommercial-No Derivative Works 4.0 License.
Description
21.5 cm x 13.4 cm. Single sheet of paper, written in ink, from Lexington, KY, January 18, 1860. Prominent Disciples minister George W. Elley writes a bill of sale for three persons, a woman and her two daughters, sold for $900 to Dr. J. K. Morton.
Comments
Metadata description by Chance Juliano
Keywords
Slavery in the Stone-Campbell movement, Slavery, Sale of Slaves, Bill of Sale for Slaves, George W. Elley, Elley, J.K. Morton, Morton
COinS