Preview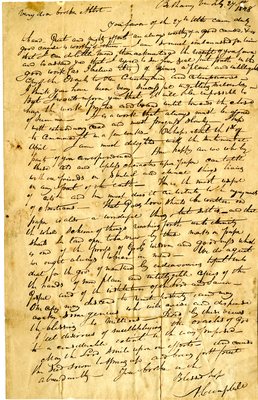 Date of Creation
2-28-1828
Material Type
Printed Material
Library of Congress Subject Headings
Restoration movement (Christianity), Restoration movement (Christianity)--History|y19th century.
Global History Chapter
1. Emergence of the Stone-Campbell Movement
Contributor
Dr. Carisse Berryhill, Milliken Special Collections, Abilene Christian University
Creative Commons License


This work is licensed under a Creative Commons Attribution-Noncommercial-No Derivative Works 4.0 License.
Description
Alexander Campbell, autograph letter, 31.2 cm x 19.8 cm, folded, addressed on reverse to John Abbot, Macon, Georgia; postmarked "Free A Campbell P.M" from Bethany, Virginia, Feb. 28, 1828. Campbell replies to a letter from Abbot, who is selling prepublication subscriptions to the second edition of Campbell's 1826 edition of the New Testament. Campbell describes the schedule for the new edition, and expresses wonder that God's love should be written on paper.
Comments
Metadata description by Chance Juliano
Keywords
Alexander Campbell, Campbell, Restoration Movement, John Abot, Campbell's 1826 Edition of the New Testament
COinS