Title
Preview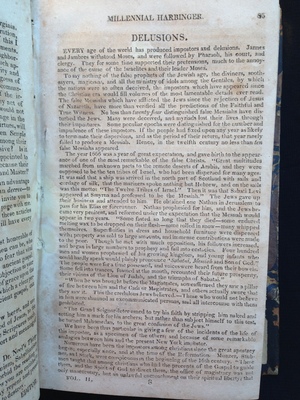 Material Type
Printed Material
Library of Congress Subject Headings
Churches of Christ--History., Restoration movement (Christianity), Restoration movement (Christianity)--History|y19th century.
Global History Chapter
1. Emergence of the Stone-Campbell Movement
Contributor
Clinton J. Holloway
Creative Commons License


This work is licensed under a Creative Commons Attribution-Noncommercial-No Derivative Works 4.0 License.
Source
Campbell, Alexander. "Delusions." Millennial Harbinger 2, Bethany, VA, (February 1831): 85 ff.
Description
Original copy of 1831 Millennial Harbinger issued by Alexander Campbell from Bethany, Virginia. "Delusions" article by Alexander Campbell is noted as one of the first "Anti-Mormon" pieces in Christianity (Book of Mormon published in March of 1830). Of interest in Stone-Campbell Movement because of the defection of Sidney Rigdon, an associate of Campbell, to the Mormon Church. The Mormon Church is actively collecting this genre of material.
Comments
Metadata description by Chance Juliano
Keywords
Alexander Campbell on Mormonism, Campbell on Mormonism, Mormonism, Anti-Mormon Polemics, Alexander Campbell, Campbell
COinS