Title
Preview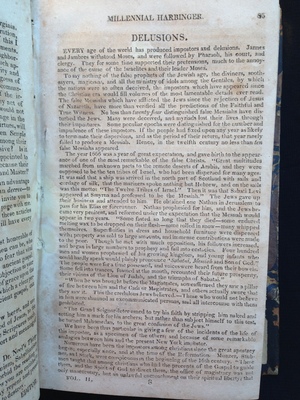 Source
February 1831 Millennial Harbinger, Alexander Campbell, Editor, Published in Bethany, Virginia, page 85 ff.
Submitted by: Clinton J. Holloway
Description
Original copy of 1831 Millennial Harbinger issued by Alexander Campbell from Bethany, Virginia. "Delusions" article by Alexander Campbell is noted as one of the first "Anti-Mormon" pieces in Christianity (Book of Mormon published in March of 1830). Of interest in Stone-Campbell Movement because of the defection of Sidney Rigdon, an associate of Campbell, to the Mormon Church. The Mormon Church is actively collecting this genre of material.