Preview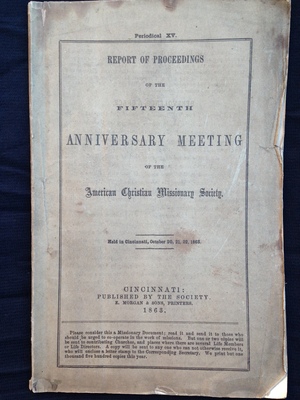 Material Type
Printed Material
Library of Congress Subject Headings
Churches of Christ--History., Missions--Churches of Christ., Restoration movement (Christianity)--History|y19th century.
Global History Chapter
2. Developments in the United States to 1866
Creative Commons License


This work is licensed under a Creative Commons Attribution-Noncommercial-No Derivative Works 4.0 License.
Source
Published by the American Christian Missionary Society, Cincinnati, Ohio, E. Morgan & Sons, Printers
Original document, which remains in a private collection, was loaned to ACU for digitization in 2015.
Submitted by: Clinton J. Holloway
Description
1863 American Christian Missionary Society Proceedings held in Cincinnati, Ohio October 20-22, which contains the "infamous" Loyalty Resolution that was presented and passed. The resolution, presented by Brother R. (Randall) Farout referred to the South as "armed traitors" who were attempting to "overthrow our Government..." Page 24
Comments
Metadata description by Chance Juliano
Keywords
ACMS, American Christian Missionary Society, Christian Missionary Society, Missionary Society
COinS