Title
Preview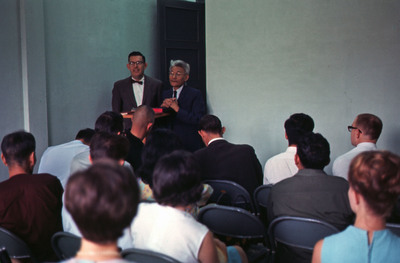 Contributor
Ralph S. Burcham
Date Contributed
10-27-2019
Church
Church of Christ, Saigon, Vietnam
Description
When I saw this picture from 1968, I was deeply moved. My interpreter was Brother Tran Van Can. Before Vietnam fell in 1975, a Brother Estep was working for the military. He called our congregation when the elders were in session and told them that he had found a way to get some of our Vietnamese brethren out of Vietnam if we would be responsible for them on their arrival. We helped place about 300 all across the US with churches. Brother Can came to our congregation with his family and about 90 others. He continued doing church work by preparing sermons in Vietnamese that were sent to Vietnam by World Radio. He passed away about four years ago.
[Editor's Note: Ralph Burcham was a missionary in residence in Saigon along with his wife and two children. They were there from 1966 through the early days of the Tet Offensive, returning in 1969 and 1973. Ralph and his wife Gladys published their story in "Vietnam--Triumphs and Tragedies." He recently retired from the faculty of Oklahoma Christian University.]
Creative Commons License


This work is licensed under a Creative Commons Attribution-Noncommercial-No Derivative Works 4.0 License.