Title
Date Created
Winter 12-9-2019
Preview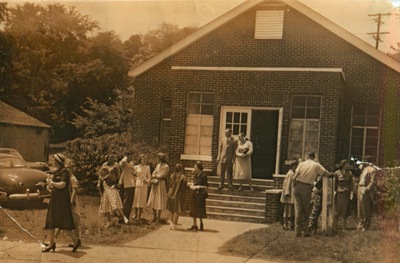 Church
Clinton Church of Christ
Description
When you mention the city of Clinton, Tennessee, most folks who know the story of the town think of HISTORY. The city, founded in 1809, has witnessed some incredibly important events unfold at our front door. The 1930's brought the New Deal and the first TVA dam, Norris, just upstream on the Clinch River. Electricity became abundantly available, changing to the momentum and future of this region. The 1950's saw the integration of Clinton High School, the first public high school in the South to do so following the Brown vs. Board decision in 1954. Sandwiched between those two decades was the second World War, which would impact this area in ways that no one would have imagined. The restoration of the church of Christ in Clinton had its beginning during the hardships and uncertain times of World War II. Temporary dwellings and mobile homes dotted the landscape of Anderson County as many families moved to the area to work on the Manhattan Project in Oak Ridge. The first meeting of the church of Christ in Clinton took place in one of these homes. The Clinton church of Christ is thought to be the oldest congregation of its kind in Anderson County. Six people assembled for the first worship service on February 7, 1943. This photo shows some members of the congregation in 1954 outside the building they built and met in until 1959, when they moved up the street to a new building in 1964. One of our current members, Mrs. Bobbie Phillips, is in this picture, standing beside her mother. The picture reminds me of so many things: how transient the membership was during that first decade, how many records were lost, how much we don't really know about the early years. When the war effort was over, many families moved back to where they had originally lived. Others stayed permanently and continued the work of the young congregation. I am also reminded of Romans 8:28: "…all things work together for good to those who love God…" The necessity of building the atomic bomb, the unthinkable things that happened in the world at that time…to think of the GOOD that came from that, helping to eventually plant a total of 8 or 9 congregations of the Lord's people in a county that had none prior to 1943. It's a remarkable story!
Blog Post
https://blogs.acu.edu/visiblechurch/2019/12/09/history-in-clinton/
Creative Commons License


This work is licensed under a Creative Commons Attribution-Noncommercial-No Derivative Works 4.0 License.