Title
Date Created
Spring 4-23-2019
Preview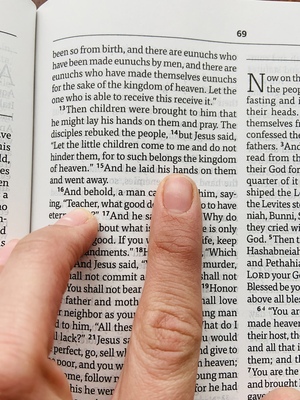 Contributor
Rachel Cleveland
Date Contributed
Spring 4-23-2019
Church
Billy Hext Road Church of Christ
Description
I grew up in the church and obeyed the gospel in my teens. When I was eighteen I went through a terrifying experience that truly built my faith and trust in God. I was driving home from college in the middle of winter and it began to snow. Before I knew it I couldn't see two cars in front of me, the road was covered in black ice and it was freezing. I had discovered my car heating system didn't work and it would not defrost anything in or on my car. I was terrified, freezing and was convinced I was going to die that day. I was seeing cars pass by me driving fast, getting caught on black ice and running into light poles and each other every few minutes. I was in the middle of nowhere. Eighteen-wheelers were flying past me and I thought for sure they were going to hit the ice and in turn hit and kill me. For the first time in my life, I experienced true fear and isolation. For the first time, I was truly alone and had to completely rely on the Lord to get me through the situation I was in. Everything turned out alright in the end, I made it to a mechanic who fixed my heater, and got a good night rest and was able to make it home the next day safely. Now that I am a mother it is a beautiful thing to see my own daughter rely on God to take care of us. Our car broke down recently in the middle of a very busy highway. It was pretty scary to see all of these cars zooming past and the wind shaking our car. My daughter who is three calmly looked out the windows and asked what was happening. I told her the car was having trouble and I wasn't sure what was happening. She turned and said to me with a smile, "Don't worry, God will save our car and keep us safe!". When she said this I promptly gave her a hug and assured her she was right and that I was proud of her for trusting in God. I couldn't help but think of all the time God calls us his children and if we but turn to Him we will find shelter, comfort, and strength. I pray my daughter continues to have this type of trust in the Lord and we will do our best to guide her in God's truth and love. We can learn a lot about faith and trust from little children. When we realize God will take care of us no matter the situation, we gain peace and comfort. Praise God from whom all blessings flow.
Blog Post
http://blogs.acu.edu/visiblechurch/2019/04/23/giving-it-all-to-god/
Creative Commons License


This work is licensed under a Creative Commons Attribution-Noncommercial-No Derivative Works 4.0 License.