Title
Date Created
Spring 5-2019
Preview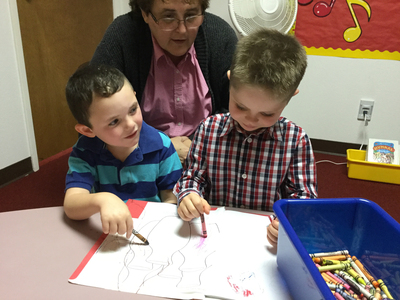 Church
New Caney Church of Christ
Description
These two little men are Aaron and Dalton. They have a special bond like David and Jonathan. Dalton lives with a condition called Tuberous Sclerosis which can affect multiple organs and brain functioning that can in turn cause seizures and autistic tendencies. In short, he can be a challenge. Aaron is Dalton's friend! A true friend! He loves Dalton unconditionally. I witnessed this in action in Bible class one night when I brought Dalton from his one-on-one class into his "big" class. As soon as we walked in the door Aaron said, "Dalton, come color with me. I need your help!" That night, for the first time, I saw Dalton pick up a crayon and use it appropriately. Aaron was not prompted to do this. He did it from his heart; his pure heart, the heart that is exemplified in the scriptures. "Truly I say to you unless you are converted and become like children, you will not enter the kingdom of heaven. Whoever then humbles himself as a child, he is greatest in the kingdom of heaven. And whoever receives one such child in My name receives Me; but whoever causes one of these little ones who believe in Me to stumble, it would be better for him to have a heavy millstone hung around his neck, and to be drowned in the depth of the sea." Matthew 18: 3-6.
Blog Post
http://blogs.acu.edu/visiblechurch/2019/05/03/172/
Creative Commons License


This work is licensed under a Creative Commons Attribution-Noncommercial-No Derivative Works 4.0 License.
Keywords
Faith, Friendship, Love
COinS