Title
Preview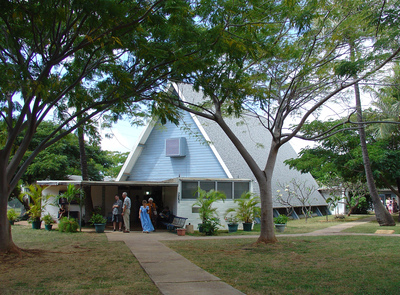 Contributor
Samuel L. Britten
Date Contributed
7-29-2019
Church
Pearl Harbor Church of Christ
Description
Pearl Harbor Church of Christ is located in the larger Honolulu area. It is also just outside the security fence of Joint Base Pearl Harbor – Hickam so there are a high percentage of military families who attend there. Each Sunday morning, visitors are greeted with a small, delicate Vanda Orchid to pin onto their lapel. When we were stationed in Hawaii, my Dad was one of those greeters who made everyone feel welcome.
One morning, my Dad struck up a conversation with a young visiting Airman who asked him what he did for a job. My dad dodged the question and replied that he was just a telephone operator. When the Airman then offered to help him get a job moonlighting as a janitor my Dad politely declined the offer. In reality, my Dad was an Army Officer who worked at CINCPAC (Commander in Chief, Pacific) Headquarters. He was in charge of military communications throughout the entire Pacific Region, and occasionally between the White House and the Kremlin. The young Airman never found out that he was talking with an Officer. Fraternization between Officers and Enlisted Personnel is strongly discouraged – but that didn't matter to my Dad. He never "wore his rank" to church services. When we were with other Christians, we never thought about rank.
Blog Post
https://blogs.acu.edu/visiblechurch/2019/07/29/orchids-know-no-rank/
Creative Commons License


This work is licensed under a Creative Commons Attribution-Noncommercial-No Derivative Works 4.0 License.