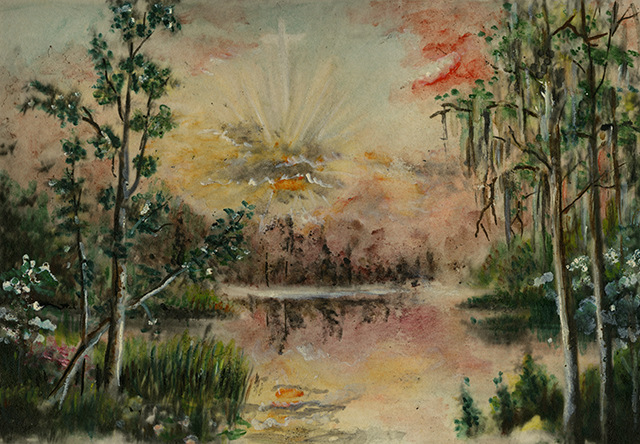 Myrta Blanche Garrett was born at midnight, April 26th, 1890, in Mount Carmel, Alabama to Hattie and James Garrett. She was named for her mother's younger sister who had been born in the same room thirteen years prior and had died at the age of three. Her father died of tuberculosis eight years later. Her mother remarried, but died in childbirth just a few years after that. Blanche was raised by her aunt and uncle following her mother's death. She spent a year in LaGrange, Georgia attending the Southern Female College for Girls, where she had her only formal art training: a single, memorable art class. She married Andrew Eugene Perry in Montgomery, Alabama in 1913 and had two children, Andrew Jr. and Myrta. Her husband owned a successful construction company. Unfortunately, Mrs. Perry suffered from tuberculosis from an early age – although it was not diagnosed until much later. Her health weakened until Andrew moved the family to Denver, Colorado in 1924, at great financial loss. Blanche spent the next five years at the Phipps Sanatorium, and five years after that as a "semi-invalid." She was not expected to live, but her health slowly improved. She attributed her surviving to "my happy disposition, my faith in God and the beauty I saw in the mountains that helped more than anything else." In 1935, as her health was improving, she and another woman painted the baptistry for the Sherman Street Church of Christ in Denver. Later, the Park Hill Church of Christ built a new building and Mrs. Perry painted its baptistry solo. In the process, she accidently painted a dove-shaped cloud. The dove was pointed out to her – as a symbol of the Holy Spirit - and she realized that she could use her paintings as a type of sermon. Over the next several decades, she painted at least 222 baptisteries all over the United States and in several foreign countries. She died in 1981 at the age of ninety-one.
Mrs. Perry did not advertise, nor did she charge for her paintings (although she did ask the receiving church to cover costs.) While some of the paintings (especially early in her career) were painted directly onto the wall, most of the paintings were done in Mrs. Perry's workshop in Denver, on canvas, and then shipped them to the church. Often this included very specific instructions as to how the painting should be hung and lit. More importantly, she provided an interpretation for each painting, listing each symbol embedded in the work and usually listing scriptures associated with each symbol. While each painting is unique, many are very similar to each other, with variations based on what a church wanted, where a church was located (she generally depicted local flora), or simply for artistic reasons. Because of these similarities, a single interpretation often covered multiple paintings. In an age before ubiquitous photocopy machines, she often asked churches to send her typed interpretation back so that she could mail it to another church with a similar painting.
The Blanche Perry collection consists primarily of correspondence between Mrs. Perry and the churches for whom she was painting and photographs of the paintings and churches. The correspondence generally consists of personal letters, instructions for lighting or hanging a painting, an interpretation of a painting, and even directions for unveiling ceremonies. Additionally, the collection contains significant materials collected by or created by Mrs. Perry. These materials include many newspaper clippings and bulletins about people or places she had connections to, or about herself. Of special note is her original poetry, watercolor paintings and a photocopy of an extensive, autobiographical manuscript. Finally, the collection also contains a pair of journals filled with extensive daily notes and recollections concerning her paintings.
Printing is not supported at the primary Gallery Thumbnail page. Please first navigate to a specific Image before printing.