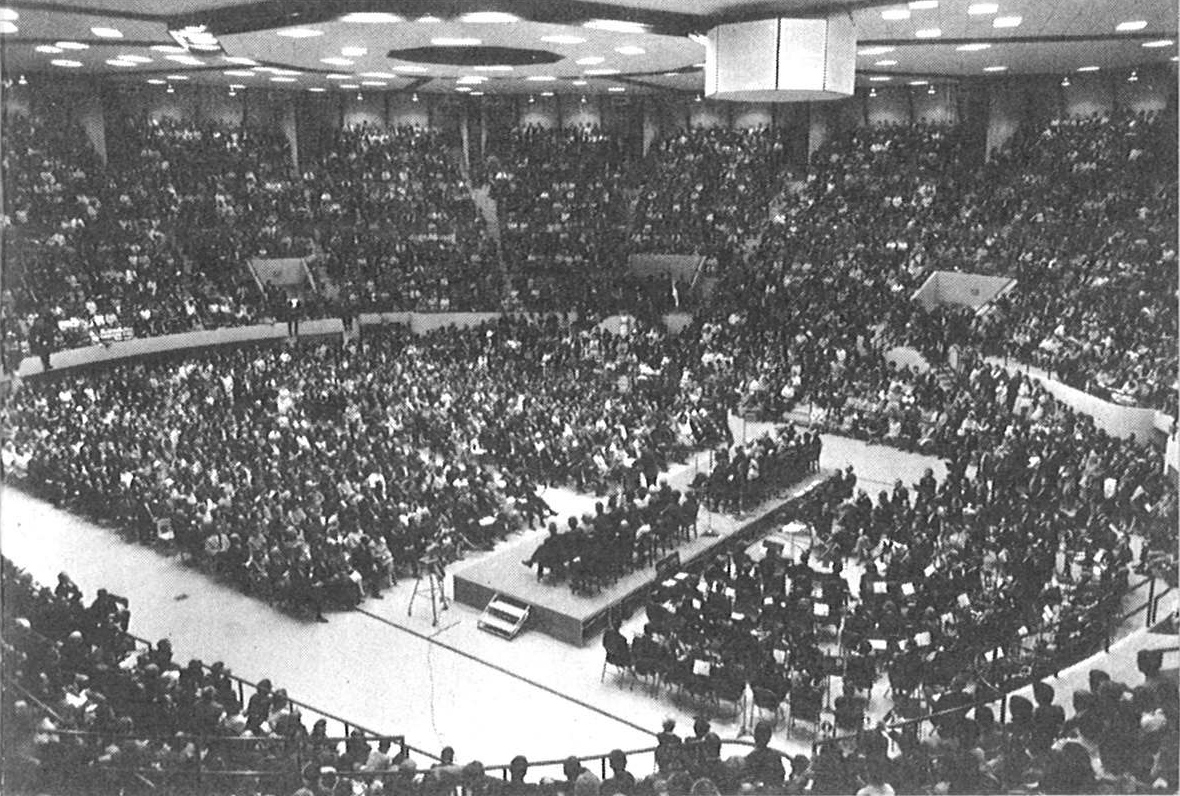 The audio files presented here represent the full extant collection of audio recordings made of the main theme speeches, individual classes and special events. For many years only the plenary address, or theme speeches, were recorded. In more recent years we have a broader selection. We have identified the files according to the labels used on the reel or tape container. Contact Mac Ice - mac.ice@acu.edu, or 325.674.2144 with additions, corrections or substitutions.
Pictured here is a plenary session of the 1968 Lectureship in the newly-opened Moody Coliseum.
DC@ACU is not a streaming service, so in order to listen to any of the Lectureship and/or Summit audio you will need to download the file and play it with the mp3 player you have on your computer (example: Windows Media Player or iTunes applications). To download a file you will need to either click on "File" below and it will cause the file to start automatically downloading the file to your "Downloads" folder on your computer, or click on the "Title" of the file, and it will bring up the metadata page for the audio file. From there you can click on the "Download" button on the right of your screen - next to the Title and Author of the audio file. From the Download folder you should be able to double-click on the audio file and it will open up in the preferred audio file player your computer operating system has selected.
Submissions from 2018
Constructing a Christ-Led Business, Alan Barnhart
You Want to Build What? Developing a Creative Team and Empowering Them to Lead Worship, Taylor Belt and Duncan Campbell
Unless the Lord Builds a House, Tim Bock
Fluid Roles and Regulations: Insights on Church Organization From the Ancient Mediterranean, John Boyles
The Marriage Friendly Church, Danny Camp
Survival of the Fittest in International Relations, Neal Coates
Survival of the Fittest in the Middle East, Neal Coates
The Long Game of Ministry: Practicing Ministry in the Midst of Pain, Mike Cope
Your Brokenness is Welcome Here, Matt Dooley and Jordan Dooley
Using Technology Without Technology Using You, John Dyer
Technology in Education: Distraction or Empowerment, Berlin Fang
Still Wrestling: Faith Renewed Through Brokenness, Les Ferguson
The Message of Ephesians, Stephen Fowl
Guidance and Light: Christian Scriptures in Early Islam, Kelli Gibson
The Ephesians Pathway to Whole Personhood, Sam Gonzales
Wholeness Through Prayer, Jackie Halstead
Mercy & Justice Wholeness, Mark Hamilton
Worship Rhythms, Sandra Henderson
Starting with the Pharisee in the Mirror: Bridging the Gap Between Small Churches and the Academy, Alyssa Johnson
A Christian Critique of David Walker's Appeal, Brandon Jones and Alvin Curette
Christians At Work, David Kinnaman
Coffee, Cons and Christ: What Could Go Right?, Pete Leonard
Wholeness in Community, Shannon McAlister
Until Christ is Formed in You: Preaching as Spiritual Direction in Small Churches, Colt McCook
The Trauma of Ministry: Caring For Yourself While Caring For Others, Jessica McCoy
Wholly and Holy Living, Phil McKinney
God's Empowering Protection: Taking Our Stand, Don McLaughlin
The Ephesian Pathway to Wholeness as a Church in Society, Don McLaughlin
Mushala: Lessons Learned from Reconciliation Between Israelis and Palestinians the Last 25 Years, Salim Munayer
Small Church But Right Focus, David Nelson
How in the World Did We Get Here?, Jeff Nelson
What is That Thing? How We Got the New Testament, Curt Niccum
Save Your Marriage Before and After It Starts, Les Parrott
Spare the Rod and Spoil the Proverb: Reading Israel's Wisdom in a World Lacking Wisdom, Glenn Pemberton
More in Common: A Muslim and Christian Discuss Faith and Friendship, Derran Reese and Ezdehar Z. Alsahow
Social Media and Identity: Developing Wholeness in a Connected World, Jennifer Shewmaker
The Vulnerability of Ministry: Facing Human Limitations to Empower Our Ministry, Mandy Smith
God Imagines Our Future: Being Filled With the Spirit, Jerry Taylor
The Christian Possession of Tools of Violence, Walter Taylor and Matthew Worthington
Why Business Matters to God, Jeff Van Duzer
Raising the Dead in Rural America: The Power of Spirit-Reliant Prayer in Rural Ministry, Jim Weaver
Biblical Spirituality in a Digital World, John B. Weaver Dr
Niebuhr/Bonhoffer and the Personal Use of Violence, Darrell Wesley and Chris Dowdy
The Purpose of Ministry: Spiritual Formation in Broken Congregations, Eric Wilson
An Answer to Scientific Racism, Jonathan Witt
Submissions from 2017
Reformation 500, Leonard Allen
Spiritual Discernment as a Congregational Leader, Jovan Barrington
Friendship with the Damned - Part 2, Richard Beck
Racial Reconciliation - A Millennials' Nightmare and Vision, Steven Brice
Reconciliation Reconsidered - Part 1, Tanya Brice
Reconciliation Reconsidered - Part 2, Tanya Brice
The Story of Mission Lazarus, Jarrod Brown
From Bondage to Appreciation, Thema Bryant-Davis
Surviving Sexual Violence, Thema Bryant-Davis
What are We Here For?, Chess Cavitt
Business and the Mission of God, Chi-Ming Chien
Not Missiles but Missions - The Future of Iran's Youth, Neal Coates
Significant Others - Understanding our Non Christian Neighbors, Monte Cox
Advancing the Kingdom of God in the Marketplace, Walter Cunningham
A Beautiful Mess - Part 1, Paul Day
A Beautiful Mess - Part 2, Paul Day
Mission for the Deaf - Local and Foreign, Jerry Drennan
Taken by the Secrets, Jeff Dunn
The Stone-Campbell Movement in a Post-Christian World, Douglas Foster
The Church's Response to Same-Sex Attraction - Part 1, Sally Gary
The Church's Response to Same-Sex Attraction - Part 2, Sally Gary
Christians and Muslims at the Intersection of Scripture, Kelli Gibson
Downwardly Mobile, Gary Ginter
Sustenance on the Journey - Ministerial Support, Jackie Halstead
Meditations for the Lone Traveler, Mark Hamilton
The Church Should be a Community of Strangers - Part 1, Mark Hamilton
The Church Should be a Community of Strangers - Part 2, Mark Hamilton
Seeking God in Everyday Life, Rhesa Higgins
We are Not in the Numbers Game, Shawn D. Johnson
Worship for the Future Church, Stephen Johnson
Front Row Center, Curis King
Churches of Christ in 2030 - Part 1, Grady King
Churches of Christ in 2030 - Part 2, Grady King and John Mullican
Ancient-Future Reading, David Kneip
Winning Every Woman's War, Deanna Koehl and Cathy Messecar
From Non-Profit to For-Profit, Jan Martinez and Julie Sullivan
Loving Your Neighbor While Managing Yourself - Part 1, Jim Martin
Loving Your Neighbor While Managing Yourself - Part 2, Jim Martin
Life-Giving Leadership - A Woman's Toolbox for Leading, Julia Mateer
Get the Most Out of Your Social Media, Matt Maxwell
Our Business, God's Business, Lauren McAfee
Lessons From A Chaplain On Congregational Grief and Loss, Kasey McCollum
The Color of the Church - The Next Reformation, Don McLaughlin
When You Don't Have a Joyful Noise - Part 1, Jeff Nelson
When You Don't Have a Joyful Noise - Part 2, Jeff Nelson
Chromosomally Challenged Bibles, Curt Niccum
Hindsight Giving Insight for Foresight, Ian Nickerson
Contemporary Issues Youth Ministry Must Face, Robert Oglesby and David Sessions
Stewarding God's Resources, Jim Orr and Jim Litton
Empire and the Church, Collin Packer and Barry Packer
From Grace to Torah, Sean Palmer
Deuteronomy and a Yahweh Nation - Part 1, Glenn Pemberton
Deuteronomy and a Yahweh Nation - Part 2, Glenn Pemberton
Goliath was Only Six Feet Tall? Who has been Messing with my Bible?, Glenn Pemberton
Witnessing Effective Pastoral Leadership, Amanda Pittman